Before starting this journey, I battled weight issues my entire life. I tried to establish healthier habits through programs like Weight Watchers, but had no luck. Things worsened when I became pregnant in 2014 and started experiencing thyroid issues. Over the course of that pregnancy, I gained 125 pounds. When I had my daughter that September, I was my heaviest at 375 pounds.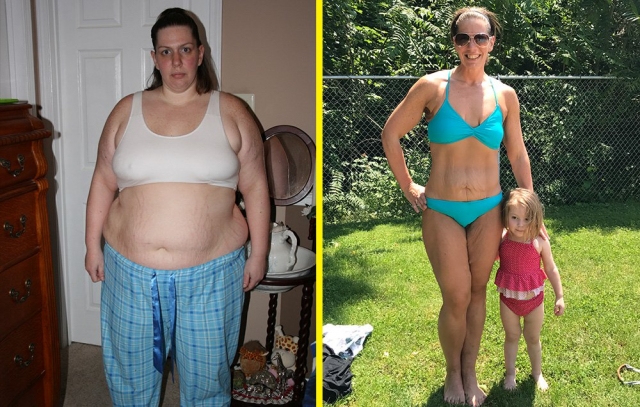 I struggled through some of the simplest parts of life. I couldn't fit behind the steering wheel of our car, so we had to buy a new one. I had to take breaks going up just two flights of steps. Getting dressed was a chore, especially when it came to footwear. I couldn't tie my own shoes, so I ended up wearing crocs all the time because they were easy to slip on. During this time, I was severely depressed.
THE CHANGE :
I felt miserable and trapped. Over time, it started to seem as though ending my life would be easier than changing it. The day before I decided to make a change, I had a nervous breakdown after getting on the scale in my bathroom. It was paralyzing. But then I heard my daughter cry and that was a sign that told me to stay and fight to change my life. After that day, I chose to do something for myself. Every choice I made from that point on has moved me away from that day in the bathroom.
THE FOOD
The first decision I made in this process was ordering Beachbody's 21 Day Fix program. The meal plan portion of the program taught me how to eat food the correct way. The color-coded containers each represent a different food group (like greens, fruit, carbs) and are sized in correlation to those foods' proper portion. The container set size is based on your weight and goals. This plan taught me to remove unhealthy foods from my diet and replace them with healthier options. For example, Friday night is pizza night at my house. Instead of ordering from the pizzeria, I make a wheat or cauliflower-based crust, which makes a big difference. Before this program, I didn't realize that some foods are nutritionally more dense than others.
I like to keep my meals simple, and I've stuck to the 21 Day Fix's rules for the most part. Breakfast is always an omelet with sautéed veggies and toasted Ezekiel grain bread. For a morning snack, my favorite go-to is Greek yogurt with pineapple, chia seeds, and cinnamon. Lunch is a big salad with shredded chicken or roasted turkey, vegetables, and balsamic dressing. An afternoon snack is usually carrots and hummus with some almonds. Dinner is where I incorporate more variation. It could be whole-grain spaghetti or grilled turkey burgers, or chicken.
The biggest changes I've made to my diet is that I not longer eat red meat, pork, or dairy. When I tried to begin incorporating these back into my diet after the 21 Day Fix, I started to experience a lot of inflammation and rashes, so now I know that they're a trigger for me.
Find the workouts in the next page: