This dreamy no-bake biscoff Cheesecake is everything you've ever imagined. Everybody who has tasted it said that it was the best cheesecake they've ever eaten. Hands down.
It's amazing! It's the cheesecake that makes your jaw drop in surprise the first time you taste it. It's delicious!
It's simple and fun to make.
Recipe: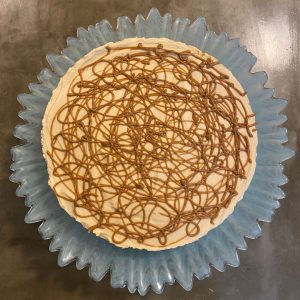 Biscoff Cheesecake
This biscoff cheesecake is the best! It has a biscoff cookie crust and a rich biscoff filling.
Ingredients  
Cookie Crumb:
8.8

ounces

Biscoff Cookies 250g

1/3

cup

Butter

75g Melted
Cheesecake:
16

ounces

Full Fat Brick Style Cream Cheese

450g, Softened

1/2

cup

powdered sugar

60g.

1

teaspoon

vanilla extract

1

cup

Biscoff Cookie Butter

250g

1 1/4

cups

Heavy Cream

300ml Cold
Topping:
1/4

cup

Biscoff Cookie Butter

63g

2

Biscoff Cookies Crushed
Instructions 
Prepare your springform pan. Turn the 8-inch springform pan upside down so there is no lip at the bottom. This will make it easier later to remove the cheesecake.

Spray the parchment paper with non-stick spray. Line the bottom with a square of parchment paper. You don't need to cut the parchment paper to size. Place a rectangle of parchment paper on the bottom, and then cut the sides.

Line the sides with parchment paper. This step is optional, but it makes it easy to remove the cheesecake later.

Make your cookie crust. Add the biscoff cookies to your food processer and pulse until you get crumbs.

Mix in the melted butter again and continue to process until it is well combined.

Transfer the cookie crumbs into your springform pan.

Use a measuring cup to flatten the cookie crust.

While you prepare your filling, place the crust in the freezer

Make the cheesecake filling. Mix the cream cheese, vanilla extract, and powdered sugar in a stand mixer until smooth.

Mix in the Biscoff cookie butter. Beat it until smooth.

Add the heavy cream to the bowl and mix until smooth.

Spread the cheesecake filling over the cookie crust, and then smooth it down.

Place in the refrigerator to chill for at least 6-8 hours, and preferably overnight.

Once the cheesecake is set, you can use the parchment to slide it off the springform pan onto the cake stand. The parchment paper can then be removed.

Decorate. In a microwave-safe bowl, combine biscoff cookie butter and microwave for 30 seconds until it is melted. Sprinkle the biscoff cookie butter over the cheesecake.

Allow the topping to set for 10 minutes, then place back in the refrigerator. Slice and serve.