Carne Asada Street Tacos are one of the most popular Mexican dishes around, and for good reason! This classic street food is easy to make, can be cooked on the grill or in the oven or stovetop, and packed with flavor. Whether you're looking to recreate a traditional Mexican meal at home or just whip up something quick and delicious, these Carne Asada Street Tacos are sure to satisfy your cravings. Keep reading for this easy recipe!
Carne asada is a type of grilled beef that is popular in Mexican cuisine. It is typically made with flank steak or skirt steak and can be served either as a main dish or in tacos.
If you're looking for a delicious and easy recipe for carne asada tacos, look no further! This recipe uses skirt steak, which is marinated in a flavorful mixture of orange juice, lime juice, garlic, cumin, and chili powder. The steak is then grilled to perfection and served on warm corn tortillas with fresh cilantro and diced onions.
Whether you're hosting a backyard BBQ or just want to enjoy a delicious meal, these carne asada tacos are sure to please!
If you're looking for a delicious, easy-to-make recipe that will be a hit with your friends and family, look no further than these Carne Asada Street Tacos. Made with flank steak, these tacos are full of flavor and perfect for any occasion.
So why should you try this recipe? Here are four reasons:
1. The steak is cooked to perfection.
2. The tacos are packed with flavor.
3. They're easy to make.
4. They're perfect for any occasion.
So what are you waiting for? Give this recipe a try today!
Tips:
1. When grilling carne asada, be sure to use a hot grill and cook the meat quickly. This will help to seal in the juices and keep the meat from drying out.
2. If you are using wooden skewers to grill the meat, be sure to soak them in water for at least 30 minutes before using them. This will help to prevent them from burning on the grill.
3. Be sure to cut the meat against the grain when slicing it for tacos. This will help to ensure that the tacos are easy to eat and not tough or chewy.
4. When making the salsa for these tacos, be sure to use fresh ingredients. The fresher the ingredients, the better the flavor of the salsa will be.
Conclusion & Recipe:
In conclusion, carne asada street tacos are an excellent choice for your next taco night. They're easy to make, and they're packed with flavor. Be sure to give them a try!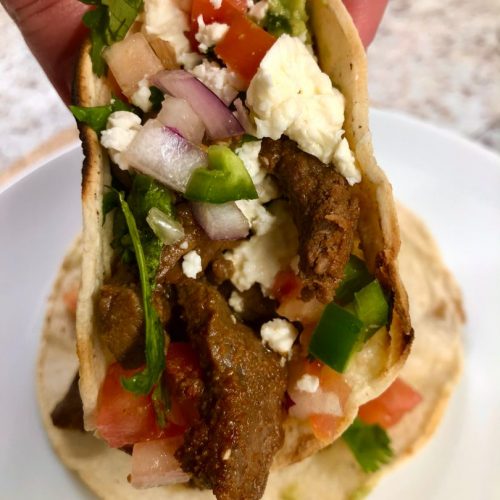 Carne Asada Street Tacos
Carne asada street tacos are an excellent choice for your next taco night. They're easy to make, and they're packed with flavor. Be sure to give them a try!
Ingredients  
Marinade

Flamb steak of 1 1/2 to 2 pounds

pounded to a thin consistency

1/4

cup

reduced sodium soy sauce

1/4

cup

orange juice

2

Tablespoons

lime water

2

tablespoons

olive Oil

1

tablespoon

brown sugar

1

teaspoon

liquid smoking

Spice Mix

1

teaspoon

ground cumin

1

teaspoon

garlic powder

2

tsp

each smoked paprika

chili pepper

1

teaspoon

EACH salt

onion powder and ground coriander

1/2

tsp

EACH pepper

cayenne pepper

Serve

your favorite dishes below

10-12

corn tortillas

like La Tortilla Factory

1

recipe pico de gallo recommended

Guacamole recipe

Cotija cheese

Sour cream

Homemade Salsa

hot sauce

Recipe Grilled Pineapple Salsa Optional

Mexican Street Fries optional

Guacamole

4

medium-ripe avocados peeled

pitted

1

Roma tomato

seeded and chopped

1

jalapeno deveined

seeded, and diced to your liking.

1/4

cup

finely diced red onions

rinsed, drained and patted dry

2

garlic cloves minced

3

tablespoons

chopped finely cilantro

Fresh lime juice

3-4 tablespoons

1/2

teaspoon

ground cumin

1/4

teaspoon

salt and more to your taste

To taste pepper
Instructions 
Mix the Spice Mix seasonings in a small bag, or sealable container. Whisk and set aside.

Mix all marinade ingredients (except steak) in a large ziplock bag. Stir to combine. To Marinade, add 3 tablespoons Spice Mix and mix well. Place steak on a plate, and then seal the container. Turn to coat evenly. Marinate the steak in the refrigerator for 4-12 hours. The longer, the better

While the steak is marinating prepare picode gallo, and any other toppings you like guacamole. Then refrigerate.

Mix the remaining Spice Mix with 2 tablespoons of olive oil until you are ready to grill.

Marinate steaks in a marinade, then remove the marinade from the steaks and dry them with a paper towel. Let steak rest at room temperature for 30 mins. This time is also used to make guacamole (recipe below).

Preheat the outdoor grill or indoor grill pan to high heat. Turn down heat to medium. For medium, grill steak for 5-6 minutes each side. Turn once to cook the other side. To cook the steak medium-well, you can continue to cook it over indirect flame for 5-10 minutes each side depending on its thickness. If you prefer your steaks to be rare, then you should use HIGH heat. This will allow you to get the outside charred in less time.

Let steak rest for 10 minutes before cutting into small pieces.

To warm tortillas, heat them in the microwave or in a skillet. Once they are warm and pliable, char them on a grill or open gas stovetop flame.

Layer warmed corn tortillas, carne asada steak and pico en gallo on top. Serve with hot sauce and optional lime wedges.

GUACAMOLE

Mash avocados in a medium bowl to desired consistency. Mix in the remaining ingredients. Add salt or lime juice to taste.

Serve immediately, or wrap in plastic wrap to protect the guacamole. Press the plastic to touch the top of the avocado to prevent it from browning.