Looking for a delicious and easy-to-make meal the whole family will love? Then look no further than this tasty recipe for chicken broccoli stir fry! We've combined all the classic flavors of Chinese takeout with a unique blend of sauces that make it perfect for serving over white rice. So grab your wok or frying pan and get ready to whip up this yummy dish in no time!
A chicken broccoli stir fry is a quick and easy meal that is perfect for a weeknight dinner. This recipe is full of flavor and can be made in under 30 minutes. The best part about this dish is that it is healthy and packed with nutrients. So, if you are looking for a delicious and healthy meal, then this chicken broccoli stir fry recipe is for you!
If you're looking for a delicious, healthy stir fry recipe, this chicken broccoli stir fry is a great option! It's packed with protein and vegetables, and it's easy to make. Plus, it's a great way to use up any leftover chicken or broccoli you have.
Assuming you want a story about someone making this recipe:
The ingredients are simple enough, just chicken and broccoli with some pantry staples to round it out. But the result is so much more than the sum of its parts. The key is in the technique, which is really not that complicated either. But it does take a little practice to get it right.
When I was first learning to cook, this was one of the first recipes I mastered. It's still one of my go-to meals when I'm short on time and need to get something healthy and delicious on the table. Plus, it's always a hit with my family and friends. They never tire of it, no matter how often I make it.
So if you're looking for an easy weeknight meal that will please everyone, give this chicken broccoli stir fry a try. You won't be disappointed!
Tips:
1. Use fresh ingredients whenever possible. This will help to ensure that your stir fry is full of flavor and not bland.
2. If you can, use a wok for this recipe. A wok will help to create a more authentic stir fry experience.
3. If you're using frozen broccoli, make sure to thaw it out completely before adding it to the stir fry. Otherwise, it will release too much water and make the dish soggy.
4. Be generous with the amount of sauce you use. A good stir fry should be nice and saucy!
5. When everything is cooked through, give the stir fry a final toss with some chopped green onions for extra flavor.
Conclusion & Recipe:
In conclusion, this chicken broccoli stir fry recipe is a great way to get a delicious and healthy meal on the table in no time. The key to making this dish successful is to cook the chicken and broccoli separately so that they each retain their crispiness. Then, simply combine everything in the pan with the sauce of your choice and you're good to go!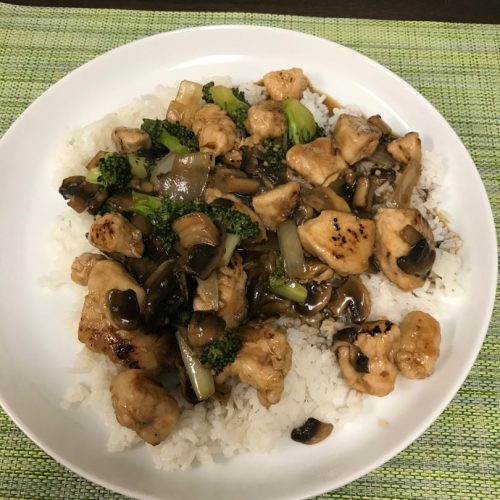 Chicken broccoli stir fry recipe
A chicken broccoli stir fry is a quick and easy meal that is perfect for a weeknight dinner. This recipe is full of flavor and can be made in under 30 minutes.
Ingredients  
Broccoli and Chicken:

1

lb

chicken breast

boneless, skinless, cut in 3/4" pieces

2

tablespoons

cooking oil

I used extra-light olive oil. Divided

1

lb

chopped broccoli

about 5 cups.

1

small yellow onions

cut into strips

1/2

lb

white button mushrooms

thinly sliced

Stir Fry Sauce Ingredients:

2/3

cup

low-sodium chicken broth

3

Tbsp

low-sodium soy sauce

use Tamari to make it gluten-free.

2

Tbsp

lightbrown sugar

packed (or honey according to your taste)

1

Tbsp

cornstarch

1

Tbsp

sesame oils

1

teaspoon

fresh ginger

peeled (lightly packed).

1

tsp

garlic

2 minced cloves, grated

1/4

teaspoon

black pepper and more are needed to season chicken
Instructions 
Combine all the ingredients in a small bowl. Whisk to dissolve corn starch and sugar. Warm broth will speed up the process. Set sauce aside.

Slice the chicken into bite-sized pieces, no more than 3/4 inch thick. Season with salt and pepper. Over medium heat, heat a large skillet or wok. 1 tablespoon oil. Allow the chicken to rest in a single layer. Stir fry for 5 minutes, or until it is golden brown.

Add 1 Tbsp oil to the skillet. Next, add broccoli florets and sliced onions. Finally, add sliced mushrooms. Stir fry for 3 minutes, or until the mushrooms are softened. When the broccoli is tender, turn down heat to medium/low.

Pour the sauce over the vegetables and give it a quick stir to prevent starch from settling. Let the sauce simmer for 3-4 minutes, or until it thickens and the garlic and ginger have mellowed in taste. Add a tablespoon of water to thin the sauce.

Stir the chicken for 30 seconds more or until it is cooked. Serve the chicken with hot rice and more soy sauce if necessary.