If you're looking for a restaurant-quality dinner that's sure to impress, Chicken Francese is the perfect way to go! This classic Italian dish combines tender chicken breasts with a savory and exquisite lemon sauce, finished off with a splash of white wine. With its easy-to-follow instructions and simple ingredients, this recipe is sure to become your new favorite go-to dinner!
chicken francese is a dish made with chicken that is coated in flour and egg, then pan-fried. It is usually served with a lemon butter sauce.
There are many reasons why you should try this recipe for chicken francese. First, it is a classic dish that is sure to please any palate. Second, it is relatively easy to make and only requires a few simple ingredients. Third, the dish can be made ahead of time and reheated when needed, making it perfect for busy weeknights. Lastly, this recipe is a great way to use up leftover chicken or turkey.
Tips:
1. Pound the chicken to an even thickness before cooking for more consistent results.
2. Season the chicken well with salt and pepper before dredging in flour.
3. Use a large skillet or sauté pan so that the chicken can cook evenly without crowding.
4. Be sure to deglaze the pan with white wine after cooking the chicken to make the sauce.
5. If you want a crispy coating on your chicken, use panko bread crumbs instead of flour for dredging.
Conclusion & Recipe:
In conclusion, chicken francese is a delicious, healthy, and easy-to-make dish that can be enjoyed by the whole family. With its crispy chicken cutlets and flavorful lemon sauce, it's no wonder this dish is a favorite of both kids and adults alike. So if you're looking for a new recipe to try, give chicken francese a shot – you won't be disappointed!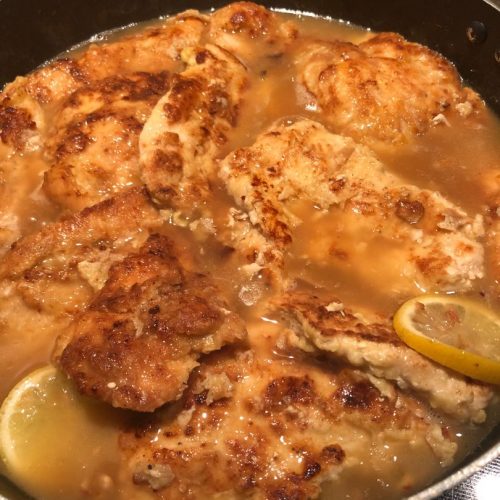 Chicken francese
Chicken francese is a delicious, healthy, and easy-to-make dish that can be enjoyed by the whole family.
Ingredients  
2

pound

boneless

skinless chicken breasts

Garlic powder

Kosher salt

Fresh Black pepper

Flour is used to dust the chicken.

2

eggs

1

Tablespoon

whole Milk or Heavy Cream

3

tablespoons

butter

2

cups

chicken stock

1/2

Cup

dry white wine

1

Tablespoon

cornstarch with 1 Tbsp water

2

tablespoons

fresh lemon juice

Lemon slices
Instructions 
Season the chicken breasts generously on both sides with the garlic powder, salt, and pepper. If you have thick chicken breasts, cut them horizontally first.

Mix the flour in a small bowl or plate. Next, add the eggs to a separate bowl and beat them together with the milk or cream.

Place the chicken breasts on a plate and coat them in flour. After the chicken breasts are coated in flour, heat 2 tablespoons butter in a large skillet on medium heat.

Dip the chicken in the egg mixture and let the excess drip off. Then, place the chicken in the hot skillet. Continue with the rest of the chicken breasts.

Allow the chicken to cook for about 3-4 minutes per side, until it is golden brown. Then transfer the chicken to a plate and cover it with foil.

Pour the wine into the skillet to deglaze it. Let the wine reduce for one minute. Stir in the chicken stock, lemon zest, and remaining butter. Let the sauce simmer for 5 minutes. Then add the cornstarch mixture to the sauce and stir to combine.

Bring the sauce to a boil, then add the chicken breasts to the skillet. Finish by topping with the fresh lemon slices.

Slowly simmer the chicken over low heat for 8-10 minutes, stirring occasionally. Keep warm by covering the pan.