This article is all about the new Chicken Parm Crunchwrap. It's a hard shell tortilla, stuffed with juicy chicken breast, parmesan cheese and tangy tomato sauce. I'm sure you're drooling already!
Chicken Parm Crunchwrap is an easy and delicious way to enjoy your favorite chicken parmigiana flavor in a fun, new way! This dish is perfect for a quick and easy weeknight meal, or for feeding a crowd at your next party. Our Chicken Parm Crunchwrap is made with all-natural chicken breast, marinara sauce, mozzarella cheese, and topped with a crispy garlic Parmesan crust.
There are a few reasons why you should try this recipe for Chicken Parm Crunchwraps. First, it's a fun and easy way to change up your usual chicken parmesan dinner. Second, the crunchwrap itself is a great way to get your kids to eat their veggies. And third, it's a healthier option than traditional chicken parmesan because it's baked, not fried.
Tips:
1. Make sure your chicken is properly cooked before adding it to the wrap. No one wants to bite into a crunchwrap only to find undercooked chicken!
2. If you're looking for extra crunch, you can always add some chopped up bacon or crumbled up pork rinds to the mix.
3. Don't be afraid to get creative with your toppings! This recipe is delicious as-is, but you could also experiment with different cheeses, sauces, and vegetables.
Notes:
This recipe is inspired by the classic chicken parmigiana dish. We've taken all the delicious flavors of chicken parm and wrapped them up in a warm, crunchy tortilla wrap. It's the perfect easy weeknight meal!
Here are a few things to keep in mind when making this recipe:
-You'll need about 2 cups of cooked shredded chicken for this recipe. We like to use rotisserie chicken, but you can cook your own chicken breasts or thighs if you prefer.
-We've used mozzarella cheese in this recipe, but feel free to use your favorite shredded cheese. Parmesan or provolone would also be delicious!
-If you're short on time, you can use jarred marinara sauce. We love Rao's Homemade Marinara Sauce, but any good quality marinara will work.
Conclusion & Recipe: 
The Chicken Parm Crunchwrap is a delicious, easy-to-make meal that is perfect for any occasion. This dish is packed with flavor and will leave you feeling satisfied. The next time you're in the mood for a hearty meal, give the Chicken Parm Crunchwrap a try!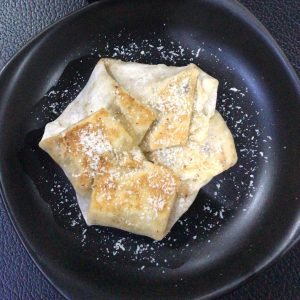 Chicken Parm Crunchwrap
Ingredients  
4

large flour tortillas

12

oz.

fresh breaded chicken

1

c.

marinara

3

c.

shredded mozzarella

1

c.

fresh grated Parmesan plus more for sprinkles

3/4

c.

chopped cherries tomatoes

1/2

c.

tear basil leaves

2

tbsp.

extra-virgin olive oil
Instructions 
Step 1 Spread a thin layer marinara on each flour tortilla. Add chicken, mozzarella cheese, Parmesan and cherry tomatoes to each tortilla.

Step 2Tightly fold your large tortilla in half towards the middle, making pleats. Wrap the tortilla tightly and invert crunchwraps to ensure the pleats remain on the bottom. Heat a thin layer of olive oils on medium heat in a nonstick skillet.

Step 3Add one crunchwrap pleated side up and cook for 3 minutes. Turn the crunchwrap over and cook for 3 minutes more.

Step 4Remove the heat and continue to use the remaining crunchwrap. If necessary, add more olive oil to your pan.

Step 5Sprinkle some Parmesan over the top. Slice into wedges. Serve warm.