Delicious, gooey and full of flavor – Chocolate Chip Peanut Butter Blondies are the perfect snack or dessert! In this blog post, we'll show you how to make these easy-to-make blondies that combine two classic flavors. Get ready for a delicious treat that everyone will love!
If you love chocolate chip cookies and peanut butter, then you'll love these chocolate chip peanut butter blondies! They're soft and chewy, with a delicious peanut butter flavor. And they're so easy to make – just mix the ingredients together and bake!
Assuming you're referring to the Chocolate Chip Peanut Butter Blondies recipe from the blog article entitled "10 Easy Recipes for Busy Weeknights", there are several reasons why this particular recipe is worth trying. For one, it's a one-bowl recipe that comes together quickly and easily, so it's perfect for busy weeknights when you don't have a lot of time to spare. Additionally, these blondies are packed with flavor thanks to the combination of chocolate chips and peanut butter, and they're sure to satisfy your sweet tooth. Finally, this recipe is highly adaptable – if you want to switch up the flavor, you can use any type of chocolate chip or nut butter that you like. So what are you waiting for? Give these Chocolate Chip Peanut Butter Blondies a try!
Tips:
1. Preheat your oven to 350 degrees F before getting started on the recipe.
2. Use a light brown sugar in this recipe for best results.
3. Be sure to use a good quality peanut butter in the blondies for best flavor.
4. If you want extra chocolate in your blondies, feel free to add some chocolate chips to the top of the blondie batter before baking.
5. Allow the blondies to cool completely before cutting into them for neater squares.
Conclusion & Recipe:
In conclusion, these chocolate chip peanut butter blondies are an easy and delicious dessert that will satisfy any sweet tooth. They are perfect for a quick snack or a fun and festive treat to share with friends and family.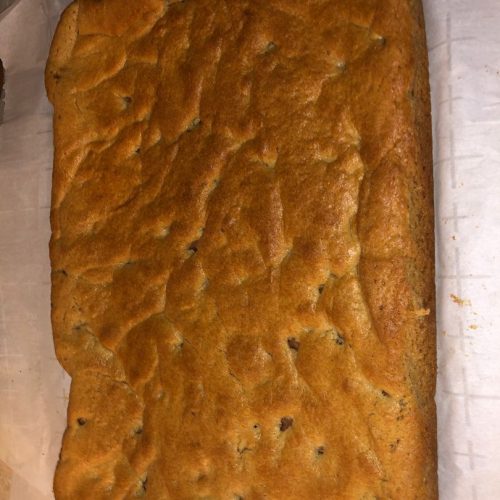 Chocolate chip peanut butter blondies
Delicious, gooey and full of flavor – Chocolate Chip Peanut Butter Blondies are the perfect snack or dessert!
Ingredients  
1

Cup

All-purpose flour

1 1/2

teaspoons

Baking Powder

1/3

Cup

Unsalted Butter

melted and cooled slightly

1/2

a cup crunchy peanut butter

we used skippy extra crunchy.

2/3

cup

granulated sugar

1/3

cup

brown sugar

2

large eggs

1

teaspoon

vanilla essence

Salt a pinch

1

cup

semi sweet chocolate chips
Instructions 
Preheat oven to 350°F

Line a 9x9-inch square aluminum pan with two sheets parchment paper. Trim the sheets and place one sideways, the other top to bottom. Make sure the edges extend beyond the sides of your pan. This will make it easier for you to lift the baked blondies from the pan. Set pan aside.

Mix flour and baking powder together in a small bowl. Set aside.

Combine the melted butter, peanut butter and both sugars in a bowl. Mix together, scraping down the bowl as necessary.

Mix eggs one by one in a bowl. After each addition, mix well. Mix in vanilla extract and salt. You are done mixing the ingredients.

Slowly fold in the peanut butter mixture one third at a. Stirring just enough to incorporate flour after each addition. Add the remaining flour mixture to the peanut butter mixture. Stir gently until the chocolate chips are well combined.

Spread the batter evenly into the prepared pan. Bake for about 20-25 minutes or until edges are lightly golden and the center is set. The middle of the cake will be still soft but will begin to firm up as it cools.

Allow the pan to cool on a rack for 10 minutes. The parchment paper handles can be used to lift the blondies onto the cooling rack. After cooling, cut the blondies into 9 large pieces (3 rows x 3 row) or 16 smaller pieces (4 lines x 4 row).