"Are you tired of the same old chicken dishes? Do you want to add a tropical twist to your meal routine? Look no further than our Creamy Coconut Milk Chicken recipe! This dish is packed with flavor and will transport your taste buds straight to the beaches of Thailand. With tender chicken, creamy coconut milk, and a blend of flavorful spices, this dish is sure to become a new family favorite. So grab your apron and let's get cooking!"
When it comes to cooking flavorful and fragrant chicken dishes, coconut milk is one of the best ingredients you can use. This natural product not only adds a delicious creaminess to your dish, but also infuses it with a subtle sweetness and exotic aroma.
In this recipe, we've used coconut milk to create a creamy and fragrant chicken dish that's perfect for any night of the week. We've paired the chicken with some sautéed vegetables and served it over steamed rice for a complete meal.
There are a few reasons why this recipe is worth trying. For one, it's easy to make and doesn't require a lot of ingredients. Plus, the end result is a flavorful and creamy chicken dish that's sure to please.
Another reason to try this recipe is that it's relatively healthy. The coconut milk provides a good source of healthy fats, while the chicken is a lean protein option. This meal is also relatively low in calories, making it a great choice if you're watching your weight.
So, if you're looking for an easy, delicious, and healthy chicken recipe, give this one a try. You won't be disappointed!
Tips:
1. Use full-fat coconut milk for the best flavor and consistency.
2. If you want a thicker sauce, add some cornstarch to the mixture before cooking.
3. Be careful not to overcook the chicken, or it will be tough and dry.
4. Serve this dish over steamed rice or quinoa for a complete meal.
Conclusion & Recipe:
When it comes to comfort food, creamy coconut milk chicken is hard to beat. This dish is packed with flavor and has a rich, creamy sauce that will leave you wanting more. The best part about this recipe is that it is super easy to make and can be on the table in under an hour. So next time you are looking for a delicious and comforting meal, give this recipe a try!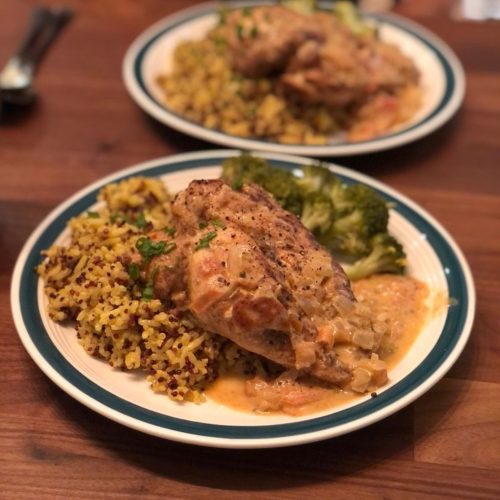 Creamy Coconut Milk Chicken
This dish is packed with flavor and has a rich, creamy sauce that will leave you wanting more.
Ingredients  
1-1/2

lb

boneless

skinless chicken breasts (1-inch to 1-1/2 inches thick).

1

teaspoon

cumin

1

teaspoon

sweet or smoked paprika

1

teaspoon

dried oregano

1/2

teaspoon

cayenne pepper. (If you prefer spicy food

1 teaspoon cayenne Pepper. You can omit the cayenne pepper if you don't like spicy foods.

1

teaspoon

salt or to your taste

1/4

teaspoon

freshly ground black pepper or to your liking

3

tablespoons

olive oils

divided

1

finely chopped yellow onion

3

cloves

garlic

minced

2

cups

of diced tomato seed

or 1 can (14 ounces, diced tomatoes well drained).

1

can

14 ounces, unsweetened, light coconut milk

For garnish

chop fresh cilantro
Instructions 
Pat the chicken breasts dry with paper towels, then set aside.

Combine cumin, paprika and cayenne pepper in a small bowl. Stir until well combined.

Season chicken breasts with seasoning mix.

In a large saucepan, heat 2 tablespoons olive oils over medium heat.

Heat oil in a large saucepan. Add the chicken breasts to the pan and cook for 6 to 7 min each side or until golden and nearly cooked through. The size of your chicken breasts will determine the cooking time.

Take out the chicken from the skillet. Place it on a plate and cover with a towel.

Cook the onions in the remaining olive oil until they are tender and translucent.

Add garlic to the mixture and cook for 30 seconds.

Continue to sauté the tomatoes for 5 minutes or until they are soft.

Add the coconut milk to the saucepan and bring it to a boil. Let simmer for 5 minutes or until sauce thickens.

Cook the chicken breasts in the skillet for about 4 to 5 minutes or until cooked through. When the internal temperature of the chicken registers at 165°F, it is done.

Adjust salt and pepper to sauce.

Serve with cilantro or parsley.