After a long day, nothing is more comforting than a delicious, homemade dinner that can be prepared in 30 minutes or less. In this article, you'll find an easy-to-follow recipe for Creamy Pesto Chicken & Spinach Pasta – perfect for those busy nights when you need to get something quick and tasty on the table!
If you're looking for an easy, flavorful dinner that comes together in just a few minutes, this Creamy Pesto Chicken & Spinach Pasta is the perfect recipe for you! Made with just a few simple ingredients, this dish is hearty and satisfying without being heavy. Plus, the pesto sauce can be made ahead of time so all you have to do is cook the pasta and chicken when you're ready to eat.
This recipe is simple, flavorful, and fast – everything you could want in a weeknight dinner! The creamy pesto sauce is made with just a few ingredients and comes together quickly, while the chicken and spinach add protein and nutrients. This dish can be on the table in less than 30 minutes, making it the perfect option for a busy weeknight.
Tips:
There are a few things to keep in mind when making this dish that will help you get the best results. First, be sure to cook the pasta until it is al dente. This means that it should be cooked through, but still have a bit of a bite to it. overcooked pasta will make this dish mushy and less enjoyable.
Second, be sure to use fresh pesto for this recipe. The pre-made pesto you can find at the store just doesn't compare to homemade pesto made with fresh basil leaves. If you don't have time to make your own pesto, look for a high quality brand that uses all natural ingredients.
Finally, don't be afraid to experiment with the ingredients in this recipe. If you're not a fan of chicken, feel free to use shrimp or another type of protein. And if you're not a fan of spinach, try using kale or another type of green vegetable. The possibilities are endless! Just be sure to stick to the basic proportions listed in the recipe so that your dish turns out perfect every time.
Conclusion & Recipe:
After trying this dish, it's easy to see why it's a weeknight staple in so many households. It comes together quickly and easily, and can be on the table in just 30 minutes. The chicken is tender and juicy, and the pasta is coated in a creamy, flavorful pesto sauce. The spinach adds a nice touch of color and nutrients, making this dish a complete meal.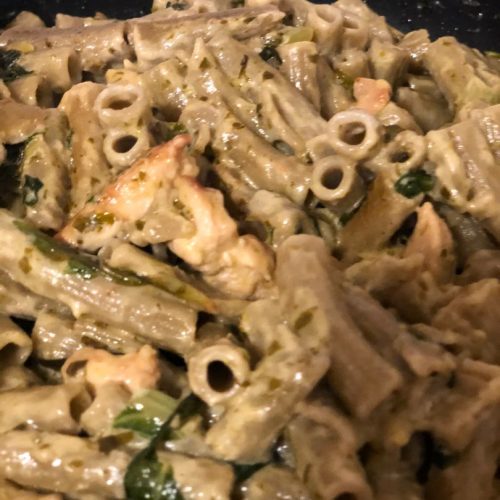 Creamy Pesto Chicken & Spinach Pasta
After a long day, nothing is more comforting than a delicious, homemade dinner that can be prepared in 30 minutes or less.
Ingredients  
12

oz

cooked or rotisserie chicken

4

Cups

Baby Spinach

3

Tablespoons

Pesto

1/4

teaspoon

salt

3/4

Cup

Heavy Cream

2

Tablespoons

Butter

8

Ounces

Cooked Pasta

Parmesan Cheese

to garnish

Optional: Dash of Red Pepper Flakes
Instructions 
To heat a nonstick pan or cast iron pan on medium heat. Bring a pot of water on the boil to make the pasta.

Heat butter and chicken until melted.

After butter has melted and the chicken is warmed, chop the chicken and add half the spinach to your pan.

Stir spinach every once in a while until it becomes wilted (1-2 min).

Stir in the remaining spinach until it is wilted (another 2-3 minutes).

After spinach has wilted, add heavy whip cream, salt, pesto, and bring to a boil.

Mix the pasta with the sauce once it is cooked. Toss the mixture well.

Garnish pasta with Parmesan Cheese. Red pepper flakes can be added if you like.