Are you craving something crispy, crunchy and downright delicious? Look no further than our latest recipe for Crispy Chicken Fritters! These heavenly bites are packed with juicy chicken, flavorful spices and a delightfully crispy exterior that will leave your taste buds singing. Perfect for game day snacking or as a fun twist on traditional chicken nuggets, these fritters are sure to be a crowd pleaser. So grab your apron and get ready to cook up some serious flavor in just minutes!
These chicken fritters are crispy, flavorful, and perfect for a quick and easy meal! Made with just a few simple ingredients, they come together in just a few minutes and can be served with your favorite dipping sauce. Whether you're looking for a new way to use up leftover chicken or you're just in the mood for something fried, these chicken fritters are sure to hit the spot.
There are many reasons to try this recipe for crispy chicken fritters. First, they are a healthier alternative to fried chicken. They are also very easy to make and only require a few ingredients. Finally, they are perfect for any occasion, whether you are having a casual get-together with friends or a more formal dinner party.
Tips:
When it comes to making chicken fritters, there are a few pro tips that can help you achieve the perfect results. First, be sure to use boneless, skinless chicken breasts for the best texture and flavor. Secondly, make sure to shred the chicken very finely before adding it to the batter – this will help ensure that the fritters are nice and crispy. Finally, be sure not to overcrowd the pan when frying them up – this will also help them stay nice and crispy!
Conclusion & Recipe:
The moral of the story is that you can make delicious, crispy chicken fritters without any special equipment or ingredients. All you need is a little bit of oil, a couple of eggs, and some patience. So go forth and fry up some chicken fritters!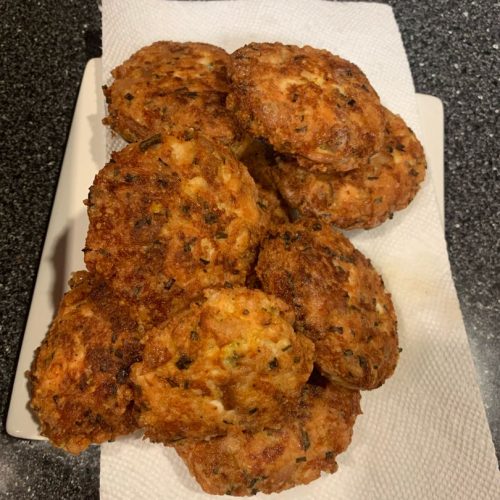 Crispy Chicken Fritters
Are you craving something crispy, crunchy and downright delicious? Look no further than our latest recipe for Crispy Chicken Fritters!
Ingredients  
2 12.5-

oz

cans white premium chunk chicken breast

1

egg

1

teaspoon

Dijon mustard

1/2

teaspoon

salt

see notes

1/4

teaspoon

garlic powder

1/4

teaspoon

onion powder

1/4

teaspoon

black pepper

1/8

teaspoon

dried thyme

1/4

cup

plain dried bread crumbs

Additional bread crumbs

Vegetable oil
Instructions 
Drain chicken very well. I place mine in a colander to drain for several minutes then press down on the chicken with a heavy bowl.

Roughly chop chicken. I like the chicken to be uniform in size for consistent texture in the fritters (aim for about 1/4 inch pieces). Chopping the chicken also prevents any stray bits from poking out of the crispy coating.

Add chicken, egg, Dijon mustard, salt and spices to a mixing bowl then stir with a fork until well combined. Stir in 1/4 cup bread crumbs.

Pour additional bread crumbs into a shallow bowl or pie plate (about a cup or so). Portion chicken mixture into six fritters. Shape each fritter into a tight little hockey puck then coat with additional bread crumbs.

Heat about 1/4 inch of oil in a large skillet over medium to medium-high heat. When the oil is hot, pan-fry chicken fritters on each side until golden brown and crispy. Garnish with fresh parsley if desired. Enjoy!