Take-out can be so easy – just pick up the phone, order, and wait for your food to arrive. But when you want something special, it's time to get creative in the kitchen with this delicious orange chicken recipe! You'll love the sweet and slightly spicy orange sauce that will make this take-out favorite even better than what you'd get from a restaurant.
When it comes to take-out, there are few dishes as popular as orange chicken. This dish is typically made with chicken that has been battered and fried, and then tossed in a sticky, sweet, and tangy orange sauce. While delicious, this dish can be quite unhealthy.
Luckily, it's easy to make a healthier version at home. This recipe uses baked chicken instead of fried, and the sauce is made with fresh oranges, honey, and Sriracha for a bit of spice. The result is a dish that is just as delicious as the take-out favorite, but much healthier. Give it a try next time you're craving Chinese food!
There are a few reasons why you should try this recipe for Crispy Orange Chicken. First, it's a healthier version of the take-out favorite. Second, it's easy to make and can be on the table in less than an hour. Third, it's a great way to use up leftover chicken. Finally, it's just plain delicious!
Tips:
1. If you're short on time, you can use pre-cooked chicken in this recipe. Simply shred or chop the chicken into bite-sized pieces and sauté in a pan until crispy.
2. For extra flavor and crunch, add a handful of chopped peanuts or cashews to the dish before serving.
3. Serve this orange chicken over a bed of steamed rice and top with green onions for a complete meal.
4. Leftover orange chicken can be stored in an airtight container in the refrigerator for up to 3 days.
Conclusion & Recipe:
The bottom line is that this recipe for crispy orange chicken is a winner! Not only is it healthier and cheaper to make at home, but it also tastes better than take-out. If you're looking for an easy weeknight dinner that the whole family will love, give this recipe a try.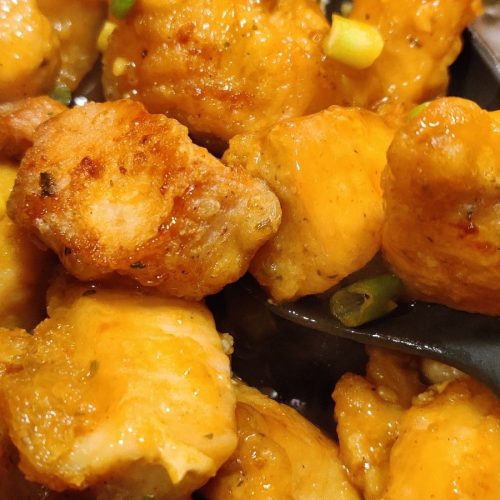 Crispy Orange Chicken
If you're looking for an easy weeknight dinner that the whole family will love, give this recipe a try.
Ingredients  
Canola Oil to fry

2

teaspoons

sesame oil

1

egg

1/3

cup

corn starch

3

tbsp

soy sauce

2

lbs.

2 lbs.
The Sauce:
1 1/2

tsp

fresh orange zest

2

tbsp

orange juice

3

tbsp

soy sauce

3

tbsp

of water

1/3

cup

sugar

1/3

cup

rice vinegar or dry sherry

1/3

cup

chicken broth

2

tbsp

cornstarch

1

teaspoon

canola oil

1 1/2

teaspoon

minced ginger

Finely minced 3 cloves of garlic

Optional: A pinch of red pepperflakes
For the Garnish:
Sliced green onions

Orange slices
Instructions 
Heat 1 to 2 inches of canola oils in a small deep fryer/heavy bottomed saucepan to 375°F.

Combine the sesame oil with 1/3 cup cornstarch, egg, 3 tablespoons soy sauce, and 1/3 cup of corn starch in a large bowl until you have a thin batter. Let the chicken pieces rest for a while to allow the oil to heat up. Cook the chicken in batches. Drain on a paper towel-lined plate. While the chicken is cooking, make the sauce.
The Sauce
Mix the orange zest, orange juice and 3 tbsp soysauce in a bowl. Add 1/3 cup sugar, 1/3 Cup rice wine vinegar (or dry Sherry), 1/3 Cup chicken broth, and 2 tbsp cornstarch to the bowl.

After the chicken has been cooked, heat 1 tablespoon of canola oil in large skillet or wok over medium heat. Stir in the red pepper flakes, ginger, garlic, and red pepper flakes. Continue stirring until fragrant for about 30 seconds. Stir in the sauce. Cook on medium heat, stirring occasionally, until it thickens.

After the sauce has thickened, add the chicken to a wok. Stir to coat. If desired, garnish with orange slices and sliced green onions. Serve hot steamed rice. Enjoy!