Craving a delicious slow-cooked meal with minimal effort? Look no further than this easy Slow-Cooker Lemon Chicken recipe! With just a few simple ingredients, you can have an aromatic and flavorful dish that will surely impress. Find out how to get the most out of your slow cooker and make sure everyone at the table enjoys the perfect lemon chicken dinner.
Slow-cooker chicken is one of the easiest, most versatile, and delicious weeknight dinners. This recipe for lemon chicken is a great example of that. It only takes a few minutes to prep, and then the slow cooker does all the work. The end result is a super flavorful and tender chicken that's perfect for serving over rice or pasta.
There are several reasons to try this recipe for Easy Slow-Cooker Lemon Chicken. First, it is an easy recipe to follow and requires little prep time. Second, the slow cooker does most of the work for you, so you can relax while it cooks. Third, the end result is a delicious and healthy meal that your whole family will love.
When it comes to comfort food, few dishes can rival a hearty bowl of chicken soup. This particular recipe for slow-cooker lemon chicken soup is not only delicious, but also incredibly easy to make. Simply combine all of the ingredients in your slow-cooker and let it do its magic. The end result is a fragrant and flavorful soup that's perfect for a winter's day.
Tips:
If you're looking for an easy, delicious slow-cooker recipe, this lemon chicken is a great option. Here are a few pro tips to make sure your dish turns out perfect:
– Use fresh lemons for the best flavor. If you don't have fresh lemons on hand, you can use bottled lemon juice, but the flavor won't be as intense.
– Be sure to remove the skin from the chicken before cooking. The skin will get rubbery and won't add anything positive to the dish.
– Cut the vegetables into bite-sized pieces so they cook evenly and don't get mushy.
– Season the chicken and vegetables with salt and pepper before adding them to the slow cooker. This will help them to retain their flavor during cooking.
– Cook on low for 6-8 hours or on high for 3-4 hours, until the chicken is cooked through and tender.
Following these tips will help you create a flavorful, healthy dish that everyone will love. Give it a try next time you're looking for an easy meal!
Conclusion & Recipe:
When it's time to eat, serve the chicken over some cooked rice or quinoa and top with fresh parsley. I like to add a little extra lemon juice to my plate as well. Enjoy!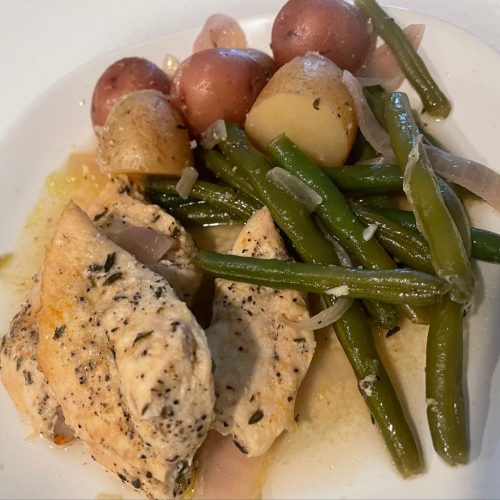 Easy Slow-Cooker Lemon Chicken
This recipe for lemon chicken is a great dinner idea. It only takes a few minutes to prep, and then the slow cooker does all the work.
Ingredients  
1

red onion

6-8

chicken thighs bone-in

skin on

1-1.5

lb

baby potatoes

1

lemon

2

Tbsp

olive oil

2

Tbsp

honey

4

cloves

garlic

1/2

Tbsp

fresh Thyme leaves

Sea salt

pepper

Asparagus thin and green
Instructions 
Red onion can be sliced and added to the slow cooker in one layer.

In one layer, add chicken thighs.

Half the baby potatoes should be washed and added to the slow-cooker.

Mix together the zest of 1 lemon, the juice of the same lemon, olive oil and honey in a small bowl. Then, add olive oil, honey and finely chopped garlic to a slow cooker.

Secure the lid and set the timer for high or low. Set high for 3 hours, 4 hours or more. If you set low, it will take 6 to 8 hours.

After 15-20 minutes, turn the slow cooker on high. Add the asparagus to the top. Cover with a lid. The longer the asparagus is cooked, the thicker it will be.

Optional but recommended: Remove the chicken thighs 5 minutes before the timer is up. Place the chicken on a baking tray and broil on high for 3 to 5 minutes, or until the skin turns golden.

Enjoy!