Are you a fan of crispy spring rolls but don't have the time or energy to make them from scratch every time? Well, we've got good news for you! In this blog post, we'll show you how to make easy and delicious spring rolls that are perfect for freezing. So, whether you're in the mood for a tasty snack or need something quick and satisfying for lunch, these golden-brown delights will be waiting in your freezer ready to go. Get ready to impress your taste buds with our simple yet scrumptious recipe!
Most people think of spring rolls as being something that's difficult to make, but they're actually quite easy! And, since they freeze so well, you can always have a few on hand for a quick and easy meal.
Spring rolls are traditionally made with rice paper wrappers, which can be found in the international aisle of most supermarkets. They're filled with a variety of ingredients, including veggies, noodles, and sometimes meat or seafood. Then, they're fried or baked until crispy.
If you're short on time, you can also find pre-made spring rolls at many Asian markets. However, they're usually not as fresh as homemade ones, and they often contain more preservatives and additives.
Whether you make them yourself or buy them pre-made, spring rolls are a delicious and versatile food that can be enjoyed any time of year!
There are many reasons to try this recipe! For one, it is easy to make and freeze, so you can enjoy crispy spring rolls any time. Secondly, the ingredients are simple and easy to find, so you don't have to go out of your way to make this dish. Lastly, this dish is healthy and light, so you can feel good about eating it.
Tips:
1. Make sure the spring rolls are tightly wrapped so they don't fall apart when frying.
2. If you're using store-bought wrappers, be sure to pat them dry before assembly so they don't stick together.
3. Use a mixture of different fillings for a more interesting spring roll – try combining shrimp, pork, and vegetables.
4. Don't overcrowd the pan when frying the spring rolls – cook them in batches if necessary.
5. Drain the cooked spring rolls on paper towels to remove any excess oil before serving.
Conclusion & Recipe:
When you're in the mood for a crispy spring roll, you don't have to go out to a restaurant – you can make your own! These easy-to-make and freeze spring rolls are perfect for a quick snack or light meal. And, since they're pre-made, all you have to do is heat them up and enjoy.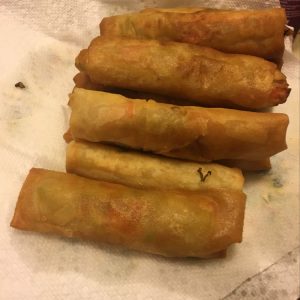 Spring Rolls
It is easy to make and freeze, so you can enjoy crispy spring rolls any time.
Ingredients  
1/4

cup

canola oil

divided

8

cups

napa cabbage

cut thin

2

cloves

garlic

minced

2

carrots

thinly sliced

8

ounces

bamboo shoots

cut thinly

2

tablespoons

mirin

1/4

cup

low-sodium soy sauce

2

tablespoons

sesame oil

2

tablespoons

cornstarch

24 8

inch

square spring roll wrappers

Canola oil

for frying
Instructions 
Half the oil from the canola oil should be added to a heavy skillet over medium heat. Once the skillet is hot, add the napa cabbage for 8-10 minutes and stir until the liquid has evaporated.

Mix in the carrots, garlic, and bamboo shoots. Cook for 1 min, stirring, before adding the mirin, soy sauce, and sesame oils. Let the filling cool completely.

Combine cornstarch and two tablespoons water.

Spread the spring roll wrapper on a flat surface. Apply cornstarch slurry to the edges to moisten. Add about 2 tablespoons filling and fold in the ends.

In a dutch oven, heat 3 inches oil to 325°F. Once the oil is heated to 325°F, fry the spring rolls in oil until golden brown (around 2-3 minutes).