Have you ever been in the mood for something chocolatey, but also wanted to make something special? Look no further! These fudgy chocolate cookies are a delicious treat that will satisfy your sweet tooth and impress everyone who tries them. Dive into this article to learn how you can make your own batch of these delectable treats at home!
These fudgy chocolate cookies are the perfect treat for any chocolate lover! They are made with cocoa powder, dark chocolate, and semisweet chocolate chips, and they are sure to satisfy your sweet tooth.
There are a few reasons why you should try this recipe for fudgy chocolate cookies. First, they are made with real chocolate, which means they will be rich and flavorful. Second, the cookies are baked in a glass pan, so they stay moist and chewy. Third, they are sprinkled with sea salt, which gives them a little bit of salty flavor to balance out the sweetness. Lastly, these cookies are really easy to make – even if you've never made cookies before!
There's something about chocolate cookies that just makes them irresistible. And these fudgy chocolate cookies are no exception! Made with cocoa powder, melted chocolate, and plenty of butter, these cookies are rich, decadent, and perfect for any chocoholic.
So what's the story behind this recipe? Well, it all started with a craving for something sweet. I was scrolling through my feed when I saw a photo of some delicious-looking chocolate cookies. I immediately wanted to make them, but I didn't have the recipe. So I set out to find it.
After doing a bit of searching, I finally found the recipe on a blog called "The Cookie Rookie." The author, Alyssa, had created this recipe after being inspired by a similar cookie from Levain Bakery in New York City.
I knew I had to make these cookies as soon as possible, so I gathered all of the ingredients and got to work. The result was absolutely amazing! These cookies were everything I wanted them to be: fudgy, chocolaty, and completely addictive. If you're looking for a show-stopping cookie recipe, this is it!
Notes:
These fudgy chocolate cookies are so good, you won't be able to stop at just one! They're perfect for a quick snack or a dessert, and they're also great for making ahead of time and storing in the freezer.
Here are a few things to keep in mind when making these cookies:
– Be sure to use good-quality chocolate for the best flavor. I like to use bittersweet or semisweet chocolate, but you can use milk chocolate if you prefer.
– The dough will be quite sticky, so be sure to flour your hands before shaping it into balls.
– These cookies spread quite a bit while baking, so make sure to leave plenty of space between them on the baking sheet.
Conclusion & Recipe:
These chocolate cookies are soft and fudgy, with a rich chocolate flavor. They're perfect for anyone who loves chocolate!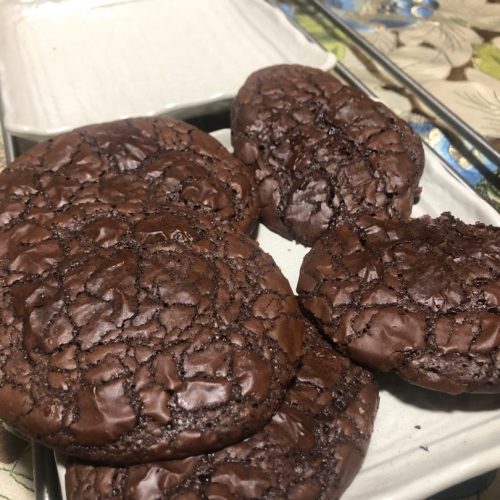 Fudgy chocolate cookies
These fudgy chocolate cookies are the perfect treat for any chocolate lover! They are made with cocoa powder, dark chocolate, and semisweet chocolate chips, and they are sure to satisfy you
Ingredients  
225

g

8 oz. Semisweet chocolate, roughly chopped

4

tablespoons

1 stick/57g unsalted Butter

2/3

cup

90g all-purpose flour

1/2

teaspoon

baking powder

1/2

teaspoon

salt

2

large eggs

3/4

cup

150g, packed with light brown sugar

1

teaspoon

pure vanilla extract
Instructions 
Preheat oven to 350°F/175°C degrees. Place butter and chocolate in heat-proof bowl. Microwave in increments of 20 seconds, stirring in between, until melted. Don't overheat.

Mix flour, baking powder, and salt in a separate bowl.

Beat eggs, brown sugar, vanilla and a mixer bowl until light and fluffy. Melted chocolate should be added at a slow speed. Add the flour mixture and mix until well combined. If the batter becomes too thick, you can place it in the refrigerator for between 30-60 minutes to firm up.

Drop heaping tablespoons on parchment paper lined baking sheets. Bake cookies for 9-12 minutes, or until they are golden brown and crispy in the centers. Let cool on baking sheets for 10 min. Transfer to a wire rack and let cool completely.

Cookies can be kept at room temperature in an airtight container for up 3 days or frozen for up 2 months. You can either freeze them overnight or leave them covered on the counter.