Are you ready to indulge in the ultimate chocolate experience? Get ready to fall in love with the most decadent chocolate cake ever! This rich and moist dessert is sure to satisfy your sweet tooth cravings and leave you feeling completely satisfied. Whether it's for a special occasion or just because, this delicious chocolate cake will surely impress even the toughest of critics. So, put on your apron and get ready to bake your way into pure bliss with this heavenly chocolate delight!
Few things are as decadent and delicious as a rich chocolate cake. This cake is the stuff of dreams, with a moist, fluffy texture and a deep, intense flavor that will have you smitten from the first bite. Whether you enjoy your chocolate cake with a cup of coffee or a glass of milk, there's no denying that this is one dessert that is sure to please. So what are you waiting for? Get ready to fall in love with the most decadent chocolate cake ever!
A chocolate cake should be rich, moist, and full of flavor. This recipe delivers on all of those fronts. The cake is made with two types of chocolate, dark and milk, which gives it a depth of flavor that you won't find in other recipes. The cake is also incredibly moist, thanks to the addition of coffee to the batter. And finally, the frosting is a classic chocolate buttercream that is both light and fluffy.
Tips:
If you love chocolate cake, then you're going to fall head over heels for this recipe. It's ultra-moist, intensely chocolatey, and covered in a rich chocolate ganache. Plus, it's surprisingly easy to make! Here are a few pro tips to help you make the most of this recipe:
– Use good quality chocolate for the cake and ganache. This will make a big difference in the flavor of the finished cake.
– Be careful not to overcook the cake. It should be moist and tender, not dry and crumbly.
– Allow the ganache plenty of time to set up before slicing into the cake. Otherwise, it will be a bit messy!
Conclusion & Recipe:
There's no denying that this cake is sinfully delicious. It's rich, chocolatey, and oh-so-decadent. But what really makes it special is the love and care that goes into making it.
From the moment you start mixing the ingredients together, you can feel the love emanating from this cake. And when you take that first bite, you'll be transported to a place of pure bliss.
So, if you're looking for a cake that will make your taste buds dance and your heart sing, look no further than this decadent chocolate cake. It's truly a labor of love.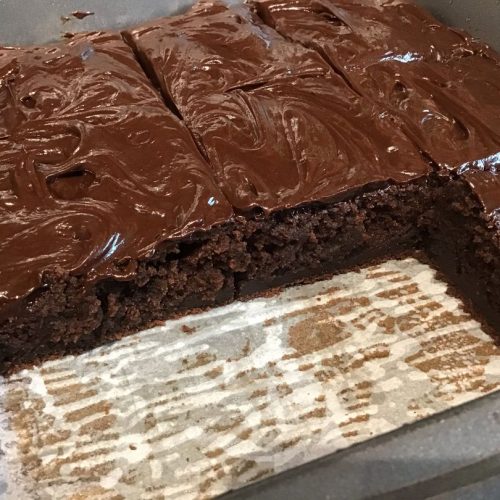 Get Ready to Fall in Love with the Most Decadent Chocolate Cake Ever!
Are you ready to indulge in the ultimate chocolate experience? Get ready to fall in love with the most decadent chocolate cake ever.
Ingredients  
Cake
1

cup

125g all-purpose flour

1

cup

200g, granulated sugar

1/2

cup

63g, unsweetened cocoa powder

1/4

teaspoon

baking powder

1/4

teaspoon

baking soda

1/2

teaspoon

salt

1

large egg

1/2

cup

100g, whole milk

1/4

cup

55g, vegetable oil

2

teaspoon

vanilla extract

1/2

cup

118g, warm water
Frosting
1

cup

milk chocolate chips

1/2

cup

sour cream

1/2

teaspoon

vanilla extract
Instructions 
Cake
Pre-heat oven to 350°F Spray the bottom and sides of a 8x8 inch glass or ceramic baking dish with parchment. For metal baking pans, heat oven to 325degF.

In a bowl, combine flour, sugar, cocoa, baking powder, baking soda and salt.

Mix in the egg, milk, oil and vanilla. Continue mixing on low speed until well combined. Mix until well combined. Increase speed to medium and continue mixing for 2 minutes.

Stir in warm water. The batter will become very thin.

Place batter in prepared dish. Bake for 35-40 minutes or until a toothpick is inserted and the batter is crumbs-free. You don't want to have wet batter. However, a few crumbs are good.

Allow the pan to cool for 10 minutes, and then let it cool on a rack.
Frosting
Heat the chocolate chips in a microwave-safe medium bowl for 30 seconds at 50% power. Stir after each heating until the chocolate is melted completely.

Mix the vanilla with the sour cream until it is smooth and fluffy.

Spread the spread on top of the cooled cake.