A chicken, broccoli and cheese braid is a delicious and easy-to-make lunch or dinner option. This recipe features a homemade dough that is filled with a savory chicken, broccoli and cheese filling, then braided and baked to perfection. Serve this braid with a side of ranch dressing or your favorite dipping sauce.
There are a few reasons to try this recipe. First, it is a fun and unique way to eat chicken, broccoli and cheese. The braid shape is also visually appealing. Secondly, this recipe is fairly easy to follow and does not require any special ingredients or equipment. Finally, the finished product is delicious and makes for a great dinner option.
These chicken, broccoli and cheese braids are perfect for a quick lunch or dinner. Serve them with some ranch dressing or ketchup on the side. Enjoy!
Tips:
Assuming you're starting with cooked chicken and broccoli, the key to this dish is the dough. It's a bit different than your standard bread dough in that it contains yogurt, which gives it a nice tang and a bit of extra moisture. The dough is also rolled out quite thin, so it's important to use plenty of flour when you're working with it.
Once you've got the dough rolled out, you'll spread on a mixture of chicken, broccoli and cheese. Then, you'll need to cut the dough into strips and braid them together. Be sure to tuck the ends under so they don't come unwrapped during baking.
This dish is best served warm, so pop it in the oven for a few minutes before serving. Enjoy!
Notes:
This recipe is perfect for a quick and easy weeknight meal. The chicken, broccoli and cheese braid can be made ahead of time and reheated when ready to eat. I also like to add a bit of hot sauce to mine for an extra kick!
Conclusion & Recipe:
To conclude, making a chicken, broccoli and cheese braid is a simple and delicious way to enjoy a classic flavor combination. This dish can be served as a main course or as an appetizer, and it is sure to please any crowd. With just a few minutes of prep time and a few ingredients, you can have this tasty dish on the table in no time. So next time you're looking for an easy and impressive recipe to make, give this chicken, broccoli and cheese braid a try!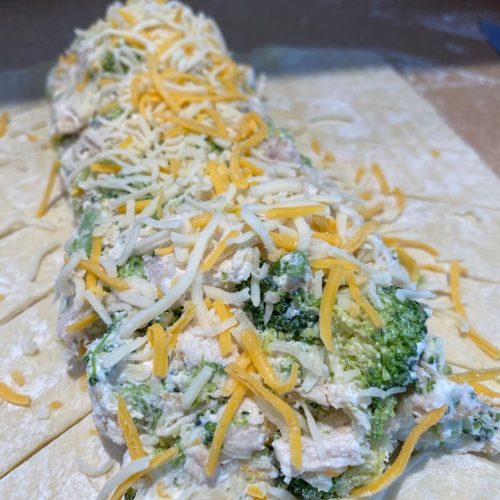 A Chicken, Broccoli And Cheese Braid
A chicken, broccoli and cheese braid is a delicious and easy-to-make lunch or dinner option
Ingredients  
Crust

2 1/4

tsp

yeast

1

cup

of warm water

2

tsp

sugar

2-2 1/2

cups

all-purpose flour

1

tsp

salt

2

tbsp

olive oil

Filling

8

oz

cream cheese softened

2

cups

chicken

cooked and diced

2

cups

broccoli boiled and cooled.

1/2

tsp

garlic powder

1/4

teaspoon

pepper

1

cup

cheese shredded.

egg

1

tsp

of water

Sea salt
Instructions 
In a large bowl or stand mixer, combine warm water and sugar to dissolve yeast. Allow yeast to rest for 5 minutes or till it is bubbly. Add flour, salt, and oil to make a smooth dough. Mix in flour as necessary until dough is sticky, but not sticky. Let it rise for 30 minutes in an oil-greased bowl.

Turn oven on to 350. Mix cream cheese and chicken with broccoli, garlic powder, salt and 1/2 cup of cheese.

After the dough has been risen, lightly punch down. Next, roll out the dough on parchment paper/silpat. This will create a rough rectangle of approximately 15x20 inches. ).

Spread the mixture of chicken and broccoli on the dough. Finally, sprinkle with the rest cheese. Slice one-inch strips using a pizza cutter. To create braid patterns, fold the dough strips across the filling. Make sure to tuck the ends in at the end of your braid.

Place parchment paper or silpat on baking sheet. Blend egg lightly in water. Brush egg mixture over braid. Sprinkle with sea salt.

Bake for 25-30 minute or until light golden brown