If you're looking for a tasty side dish that everyone will love, look no further! In this blog post, I'm going to be sharing my dad's famous au gratin potatoes recipe. This cheesy, creamy side dish is made with three types of cheese and is sure to be a hit at any dinner table. So read on to learn how to make the most delicious cheesy au gratin potatoes!
My dad's famous cheesy au gratin potatoes are the perfect side dish for any meal. They are packed with flavor and always a hit with family and friends. This recipe is easy to follow and can be made in advance. Just pop them in the oven when you're ready to eat and enjoy!
There are many reasons to try this recipe for cheesy au gratin potatoes! For one, it is a family favorite recipe that has been passed down for generations. This dish is also incredibly easy to make and only requires a few simple ingredients that you likely already have in your kitchen. Additionally, this recipe is guaranteed to please even the pickiest of eaters with its rich and creamy flavor. Finally, this dish can be easily customized to your liking by adding in additional vegetables or proteins. So why not give this delicious recipe a try today?
Tips:  
There are a few things to keep in mind when making this dish to ensure that it turns out perfectly every time. First, be sure to use starchy potatoes like russets, as they will hold their shape and absorb the flavors of the sauce better than waxy varieties. Second, don't be shy with the cheese – it should be generous! And finally, make sure the milk is at a simmer before adding it to the potatoes, otherwise it may curdle. With these tips in mind, you'll be on your way to cheesy au gratin deliciousness!
Conclusion & Recipe:
After trying this recipe, you'll see why my dad's famous cheesy au gratin potatoes are one of the most delicious side dishes around. The key to their deliciousness is in the cheese sauce, which is made with a combination of sharp cheddar and Gruyere cheeses. When combined with the creamy potatoes and crispy bacon, you have a dish that is sure to please everyone at your table.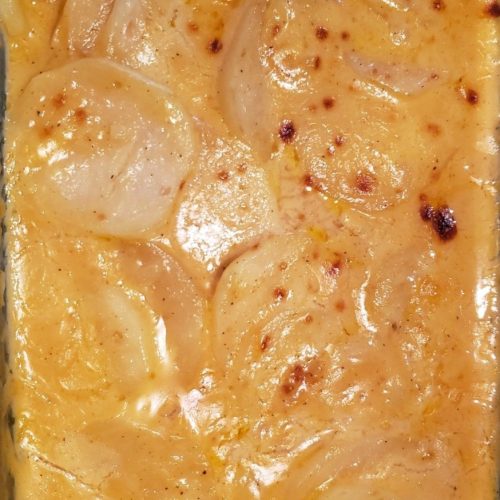 How To Make The Most Delicious Cheesy Au Gratin Potatoes
My dad's famous cheesy au gratin potatoes are the perfect side dish for any meal. They are packed with flavor and always a hit with family and friends.
Ingredients  
6-7

medium yukon potatoes

thinly diced into 1/8th-inch rounds (3 pounds of potatoes -- by weight is an even better measure).

1/2

white or Yellow onion

cut into thin slices

Use as the sauce

2

tablespoons

butter salted

1/4

cup

all purpose flour

whole Wheat, All Purpose, Gluten Free 1:1 Flour

1 1/2

cups

unsweetened almondmilk

8

ounces

sharp cheddar cheese

2 heaping cups shredded cheddar cheese

12

teaspoon

garlic powder

3/4

teaspoon

salt.

Freshly ground black pepper

To top:

1/2

cup

gruyere cheese

or sub more sharp cheddar

1/4

cup

grated cheese

To garnish

Fresh chopped Parsley
Instructions 
Preheat oven to 325 degrees F. Spray 2 quarts of baking dish (or 8x12) in nonstick cooking spray. Butter or oil can be used to grease the dish.

Place the sliced potatoes as shown in these photos in three rows. The potatoes should not be too tight. You want to leave enough space so that the potato slices are slightly slanted. Place onion slices between the rows of potatoes and on top. Put them wherever they will fit.

Next make the sauce by adding 2 tablespoons of butter to a pan and heating on medium heat. Once the butter is melted and the flour has been incorporated, gradually add the milk. This will alternate with the flour. Finally, whip up the sauce vigorously by whisking away all lumps. Allow mixture to simmer. It should be similar in consistency to cream gravy.

Reduce heat to low. Stir in the shredded cheese, garlic powder as well as salt and pepper. You can adjust the seasonings to suit your taste.

To coat the potatoes and onions with the sauce, spread it evenly. Do not worry; the sauce will thicken as you bake.

Bake the pan for 45 minutes covered with foil.

After 45 minutes of baking, remove the foil. Bake the potatoes for 30-45 additional minutes, or until they are cooked and have a golden crust. (Potatoes will be done when they can be easily pierced by a fork. Remove the baking sheet from the oven. Garnish with freshly chopped parsley. Enjoy!