Calling all soup lovers! If you're looking for a hearty and delicious recipe to warm your soul, look no further than Italian Wedding Soup. This classic dish is the perfect balance of savory meatballs, tender greens, and flavorful broth. Whether you're hosting a family gathering or simply craving some comfort food, this recipe is sure to impress. So grab your apron and get ready to whip up an unforgettable bowl of goodness that will have everyone asking for seconds!
Italian Wedding Soup is a classic soup made with beef, pork, chicken, greens, and pasta. It is a hearty soup that is perfect for a winter meal. The soup is named after the Italian tradition of serving soup at weddings. The soup is usually served with a dollop of ricotta cheese and a sprinkle of Parmesan cheese.
This recipe is the perfect way to use up leftover cooked chicken or turkey. It is also a good way to use up any vegetables you have in your fridge that need to be used up. This soup is hearty and filling, and it is sure to please even the pickiest of eaters.
Tips:
When it comes to Italian wedding soup, there are a few pro tips that can help you make the best possible dish. First, be sure to use good quality chicken stock. This will make a big difference in the flavor of your soup. Second, don't be afraid to add more greens if you like. This soup is traditionally made with escarole, but adding spinach or other greens can give it an extra boost of flavor and nutrition. Finally, be sure to taste your soup before serving to make sure the seasoning is just right. Adding a little bit of salt and pepper can really bring out the flavors of this dish.
Conclusion & Recipe:
The best way to end a wonderful meal is with a delicious dessert. The final course of an Italian wedding soup feast should be no different. There are many traditional Italian desserts to choose from, but we think tiramisu is the perfect way to end this particular soup party. A classic tiramisu is made with coffee-soaked ladyfingers, mascarpone cheese, and cocoa powder. It's light, airy, and oh-so-satisfying. So, if you're looking for the perfect way to conclude your next Italian wedding soup dinner party, look no further than tiramisu!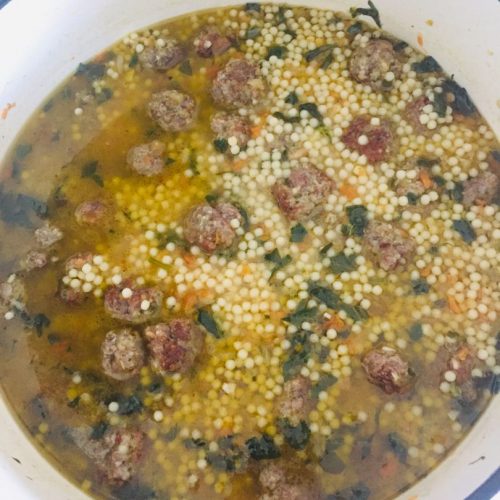 ITALIAN WEDDING SOUP
you have to give this one a try! The rich meaty taste of the meatballs is what I love the most about this soup!
Ingredients  
Meatballs:
Ground beef 1/2 lb

80% lean

Ground pork 1/2 pound

1

Egg

beaten

1/2

c

Italian breadcrumbs. Homemade is the best

1/4

c

Parmesan Cheese finely grated and ground into a powder

Finely chopped 3 cloves garlic

1/3

cup

fresh parsley

roughly chopped

Salt & Freshly Ground pepper
Soup:
1 1/4

c

carrots

diced

1 1/4

c

yellow onions

diced

3/4

c

celery

diced

1

tbsp

garlic

minced

8

c

Chicken broth

homemade is best

2

teaspoons

Italian seasoning

Salt/Pepper

3/4

c

dry Acini De Pepe Pasta

8

ounces

fresh Spinach
To Garnish
Fresh parsley

chopped roughly

Freshly grated Parmesan cheese
Instructions 
Step 1: Add the ingredients for the meatballs to a large bowl. Use your hands to combine the ingredients.

Step 2: Make 1-inch balls from the mixture.

Step 3: Place a Dutch Oven or large pot on the stove. Turn the heat to medium.

Step 4: Heat the olive oil.

Step 5: Add the meatballs to the skillet and cook for about 2-3 minutes, or until golden brown.

Step 6: Transfer the meatballs to a plate.

Step 7: Next, add the celery, carrots, and onions to the pan. Continue cooking for approximately 5 minutes, or until tender.

Step 8: Add the garlic to the pan and saute for about 1 minute, or until fragrant.

Step 9: Mix the Italian seasoning, salt and pepper with chicken broth. Stir until everything is well combined.

Step 10: Let the mixture boil.

Step 11: Reduce the heat to medium and then add the pasta and meatballs.

Step 12: Let the mixture simmer for approximately 10 minutes, or until the meatballs have been fully cooked.

Step 13: Add the spinach to the bowl and mix until smooth.

Step 14: Turn off the heat

Step 15: Sprinkle fresh Parsley and generous amounts of Parmesan cheese over each serving. Enjoy!