As the temperatures rise and flowers bloom, there's one thing that everyone craves: a refreshing treat to cool down on those hot spring and summer days. And what better way to do so than with lemon brownies? These zesty little squares are the ultimate combination of sweet and tangy, making them an irresistible dessert option for any occasion. Whether you're hosting a garden party or simply looking to satisfy your sweet tooth, lemon brownies are sure to hit the spot. So grab your apron and get ready to whip up a batch of these delicious treats – trust us, your taste buds will thank you!
As the weather gets warmer, we all start to crave lighter, fresher, and more flavorful foods. These lemon brownies are the perfect sweet treat to enjoy during the spring and summer months! Made with a fresh lemon curd filling and a light dusting of powdered sugar, these brownies are moist, tangy, and absolutely delicious.
There are plenty of reasons to try this recipe for lemon brownies! First, they're the perfect refreshing treat for spring and summer. Second, they're made with fresh lemons, which are packed with Vitamin C and antioxidants. Third, they're super easy to make, and you can have them ready in just a few minutes. Lastly, they're absolutely delicious – trust us, you won't be able to resist!
Tips:
1. When zesting the lemon, be sure to avoid the white pith as it can be bitter.
2. To get more juice out of your lemon, roll it on the countertop before cutting it in half.
3. When measuring the flour, be sure to spoon it into the measuring cup and level it off with the back of a knife, rather than scooping it directly from the container. This will ensure you don't end up with too much flour in your brownies.
Conclusion & Recipe:
There are few things more refreshing than a lemon brownie on a warm spring or summer day. The tartness of the lemon combined with the sweetness of the brownie is the perfect balance of flavors.
These brownies are also incredibly easy to make. The batter comes together in just a few minutes and only requires a handful of ingredients that you likely already have in your pantry. The hardest part is waiting for them to bake!
So, if you're looking for a delicious and refreshing treat to enjoy this spring or summer, give these lemon brownies a try. You won't be disappointed.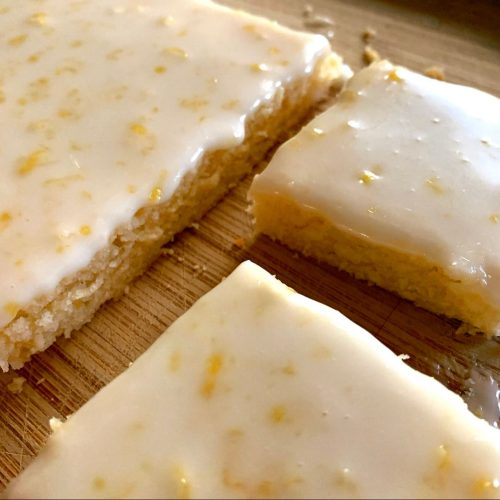 Lemon Brownies
So, if you're looking for a delicious and refreshing treat to enjoy this spring or summer, give these lemon brownies a try. You won't be disappointed.
Ingredients  
BROWNIES:
1/2

cup

unsalted butter

softened

3/4

cup

flour

2

eggs

large

2

tablespoons

lemon zest

2

tablespoons

lemon juice

3/4

cup

granulated sugar

1/4

teaspoon

sea salt
GLAZE:
4

tablespoons

lemon juice

8

teaspoons

lemon zest

1

cup

icing sugar
Instructions 
Preheat the oven to 350°F
BROWNIES:
Butter a 8x8 inch baking dish and set aside.

Two lemons should be sliced and juiced.

Use an electric mixer fitted with a paddle attachment to beat the flour, sugar and salt until well combined.

Mix the eggs, lemon zest and lemon juice in a separate bowl until well combined. Mix it with the flour mixture. Beat for 2 minutes at medium speed to make it smooth and creamy.

Bake in a baking dish for 23-25 minutes. The edges should be golden.

Let cool completely before glazing. The bars will dry if you don't overbake them.
GLAZE:
Mix the powdered sugar with lemon juice and zest. Use a rubber spatula to spread the glaze on the brownies. Let glaze set.

Slice into bars and serve.