Lemon pound cake is one of the most classic and beloved desserts in the world. With its citrusy, buttery, and sweet flavors, it's hard to resist a slice (or two!) of this delightful treat. And now you can make it right at home with this simple yet delicious recipe!
Pound cake gets its name from the traditional recipe, which calls for a pound each of flour, sugar, butter, and eggs. This rich and dense cake is leavened with baking powder or baking soda and flavored with lemon juice, zest, and extract. While variations of pound cake exist, the classic recipe is a Southern favorite.
Assuming you have never tried this recipe before, there are several reasons why you should give it a go! For one, it is a classic cake that has stood the test of time – meaning it is sure to be delicious. Secondly, it is relatively easy to make so even if you are not a experienced baker, you should be able to produce a good result. Finally, who doesn't love a citrusy cake?! The lemon flavor in this pound cake is sure to please.
This recipe is the perfect way to enjoy a classic lemon pound cake. The cake is moist and flavorful, with a hint of lemon zest in every bite. The icing is rich and creamy, making it the perfect finishing touch to this delicious cake.
Tips:
1. Preheat your oven to 350 degrees F before beginning the cake batter. This will help ensure that your cake cooks evenly.
2. Use fresh lemons for this recipe if possible. The zest and juice from fresh lemons will give your cake the best flavor.
3. When measuring the flour for this recipe, be sure to spoon it into the measuring cup rather than scooping it directly from the flour container. This will help prevent your cake from being too dense.
4. Be sure to cream the butter and sugar together thoroughly before adding any other ingredients to the batter. This step helps create a light and fluffy cake.
5. Add the eggs to the batter one at a time, mixing well after each addition. This will help ensure that they are fully incorporated into the batter.
Conclusion & Recipe:
In conclusion, this lemon pound cake is a delicious and easy-to-make dessert that is perfect for any occasion. With its moist and fluffy texture, it is sure to be a hit with everyone.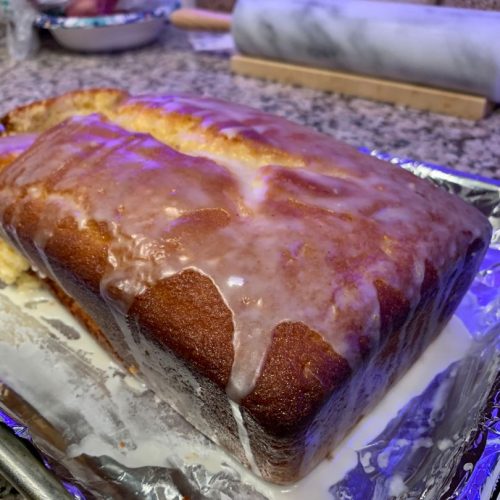 Lemon pound cake
Lemon pound cake is one of the most classic and beloved desserts in the world.
Ingredients  
Pound

Cake

1 3/4

cups

230 g all-purpose flour

1/2

teaspoon

baking powder

1/2

teaspoon

salt

1/4

cup

60 g sour cream

1 1/2

tablespoons

meyer lemon juice

1 1/2

tablespoons

meyer lemon zest

1

cup

250g granulated sugar and 2 additional tablespoons

1

cup

227g / 2 sticks, unsalted butter at room temperature

5

large eggs

at room temperature, beaten

Syrup

1/4

cup

50g granulated Sugar

1/4

cup

60 ml meyer lemon juice

Glaze

1/2

cup

65 g confectioners sugar, sifted

1

tablespoon

meyer lemon water
Instructions 
Bake the cake by heating oven to 325°F (160°C). Spray a loaf pan 9x5 inches with flour.

Mix the flour, baking powder, salt and sugar in a large bowl. In a small bowl, whisk the lemon juice and sour cream together.

Combine the sugar and lemon zest in a bowl fitted with a paddle attachment. Use your fingertips to combine the sugar and lemon zest until it is well-combined. Mix the butter and sugar together in a bowl. Beat the mixture on medium speed for 3-4 minutes until it is pale and fluffy. Scrape the bowl. Add the eggs three times, beating well between each addition. Continue mixing until the mixture becomes smooth. Scrape the sides of your bowl as needed. Mix the dry ingredients and the sour mix in three additions. The mixer should be on low. Add the sour cream mixture to the bowl in two additions. After all ingredients are added, scrape the bowl and beat the mixer on low for 30 seconds more to combine. Make sure that the batter is evenly distributed in the bowl using a rubber spatula.

Transfer the batter to the prepared baking pan. Smoothen the top and tap the pan on a work surface to loosen air bubbles. Bake the cake for 55 to 65 minutes or until a knife inserted in the middle comes out with a few moist crumbs. Let the cake cool on a wire rack for 10 minutes before turning it out.

Make the syrup while the cake is baking. In a small saucepan, combine the sugar and lemon juice. Heat on medium heat. Stir frequently until the sugar dissolves. Let the mixture simmer for 2 minutes before removing from heat.

After you have taken the cake out of its pan, (the cake should still remain warm), brush the sides and top with the lemon syrup. Although it may seem like a lot of syrup, you will use every drop. Allow the cake to cool completely for about 2 hours.

Make the glaze by combining the confectioners sugar and lemon juice in small bowl. Stir until smooth. Spread the glaze over the cake and cover with a towel. Allow the glaze to set for at most 15 minutes before you serve.

The cake will keep well at room temperature. Keep it at room temperature in a tightly sealed container for up to five days. You can also freeze the cake (unglazed) up to one month.