Are you ready for a delicious side dish to round out your meal? Look no further than Loaded Slow Cooker Potatoes! Follow this easy recipe and you'll have a cheesy and savory dish that everyone will love. Get ready to enjoy the mouthwatering combination of bacon, garlic, and Italian seasonings – all cooked to perfection in your slow cooker.
If you're looking for an easy and delicious side dish, look no further than these loaded slow cooker potatoes! Made with just a few simple ingredients, these potatoes are sure to be a hit with the whole family. Simply add all of the ingredients to your slow cooker and let it do its thing – in just a few hours you'll have perfectly cooked potatoes that are loaded with flavor.
If you love potatoes and cheese, then this recipe is for you! These loaded slow cooker potatoes are full of flavor and sure to please even the pickiest of eaters. The best part is that they are super easy to make and can be made ahead of time. So, if you're looking for a delicious and hassle-free dish to serve at your next party or potluck, look no further than this recipe!
There are several reasons to try this recipe for loaded slow cooker potatoes. First, it is an easy way to make a delicious and hearty side dish. Second, the ingredients are simple and most likely already in your pantry. Third, the slow cooker does all the work for you – just set it and forget it! Finally, this recipe is sure to please even the pickiest eaters. Give it a try today and see for yourself!
Tips:
There are many ways to cook potatoes, but one of the easiest is in a slow cooker. You can load them with all sorts of toppings and flavors, and they'll come out perfectly cooked every time.
When it comes to slow cooker potatoes, there are a few things to keep in mind. First, you'll want to choose the right type of potato. Russet potatoes are ideal for baking and mashing, while Yukon Gold or red potatoes are better for roasting and grilling.
Second, you'll need to cut the potatoes into even pieces so they cook evenly. If they're too small, they'll overcook and fall apart, while if they're too big, they won't cook through properly.
Third, you'll need to add enough liquid to the pot. This will help steam the potatoes and prevent them from drying out or burning.
And fourth, don't forget the seasoning! Potatoes are bland on their own, so be sure to add some salt, pepper, and other herbs and spices to taste.
With these tips in mind, you can make perfect slow cooker potatoes every time. So go ahead and load up your crockpot; your delicious and hassle-free meal is just a few hours away!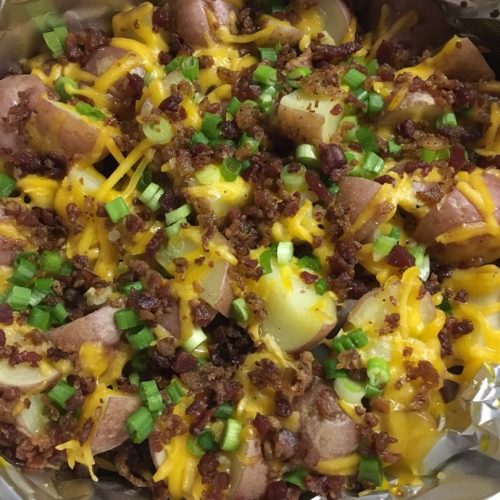 Loaded slow cooker potatoes
Are you ready for a delicious side dish to round out your meal? Look no further than Loaded Slow Cooker Potatoes!
Ingredients  
2

lb

small potatoes

halved and quartered

3

cups

cheddar cheese shredded

4

cloves

minced garlic

1

pound

bacon cooked and chopped

1

cup

chopped green onions

1

tablespoon

smokedpaprika

1

tablespoon

onion powder

1

teaspoon

Italian seasoning

1/8

teaspoon

cayenne pepper

To taste

add kosher salt to the dish.

Serve with sour cream
Instructions 
Cover a 6-quart slow cooker in foil and spray it with non-stick cooking spray.

Mix together half of the ingredients below: potatoes, cheeses, garlic, cooked bacon green onions, paprika and onion powder.

Season the dish with salt and pepper. Continue with the rest of the ingredients.

Place the aluminum foil sides around the potatoes.

Cover the pot with a lid and let it cook on low heat for 2 to 3 hours.

Serve with sour cream and green onions.