Enjoy the delicious flavor of Hamburger Helper without breaking the bank! This easy one-pot meal is sure to be a hit with your family. With just a few simple ingredients and minimal effort, you can create a hearty and tasty dinner that's both budget-friendly and full of flavor.
In this blog post, we'll show you how to make your own delicious and healthy hamburger helper – in just one pot! This dish is perfect for a quick and easy weeknight meal, and it's packed with protein and veggies. Plus, it's much cheaper than the store-bought version, and it tastes even better!
There are a few reasons why you should try this recipe for homemade hamburger helper. First, it is much healthier than the boxed version. It is also less expensive to make your own hamburger helper and you can control the ingredients that go into it. Lastly, this recipe is very easy to make and only requires one pot!
There's something so nostalgic about Hamburger Helper. It was a staple in my childhood home, and now it's a go-to meal when I'm short on time and need to get dinner on the table fast. But what I didn't realize until recently is that Hamburger Helper is actually super easy to make from scratch! And it only takes one pot!
This homemade version of Hamburger Helper is just as flavorful as the original, but it's made with real ingredients that you can pronounce. Plus, it comes together in just 30 minutes, which makes it perfect for a weeknight meal. To make it, simply cook your ground beef in a large skillet over medium-high heat until it's browned. Then add in some diced onion and garlic and cook for an additional minute.
Next, add in a can of diced tomatoes (undrained), a can of beef broth, and all of the seasonings: dried oregano, basil, thyme, salt, and pepper. Give everything a good stir, then bring the mixture to a boil. Once it's boiling, add in a cup of uncooked elbow macaroni noodles and let them cook for about 10 minutes until they're tender.
Once the noodles are cooked through, turn off the heat and stir in some shredded cheddar cheese until it's melted into the sauce. Serve immediately with some chopped green onions for garnish, if desired. And that's it!
Tips:  
1. Use lean ground beef to make your Hamburg helper healthier. Extra-lean ground beef has about 4 grams of fat per serving, while regular ground beef has about 9 grams.
2. To make this dish even more flavorful, try adding some diced onion and green peppers to the ground beef as it cooks.
3. Don't forget to season your Hamburg helper! A little salt, pepper, and garlic powder will go a long way in making this dish taste great.
4. This recipe is easy to customize to your liking. If you're a fan of spice, try adding some red pepper flakes to the sauce. Or, if you prefer a creamier sauce, stir in some sour cream after the pasta is cooked.
5. leftovers? No problem! This dish reheats well and can be stored in the fridge for up to 5 days
Notes:
Onion: You can use any onion that you like. This recipe calls for a yellow onion, but you can also use a white or sweet Vidalia onion.
Beef Broth: This recipe calls for full-salt beef broth. You can use 50% reduced sodium beef broth if you have a higher salt tolerance or want to reduce the amount of salt in your recipe.
Salt : This recipe calls for kosher salt. You may need to use only 3/4 teaspoon of table salt if you're using ground beef. Table salt is finer, which means that more can be squeezed into the measuring spoon.
Cheese It is highly recommended that you shred the block of cheddar cheese. It is coated with powder to keep it from clumping, but it doesn't melt as smooth as cheese that you cut from a block.
It should be spicy. Hot sauce can be added to the beef broth or pasta. With the other seasonings, you could also add some cayenne red pepper.
Conclusion & Recipe:
If you're in the mood for a delicious, home-cooked meal but don't want to spend hours in the kitchen, this homemade hamburger helper is the perfect solution! Made with just a few simple ingredients and all in one pot, it's an easy dinner option that the whole family will love. Plus, it's much cheaper than the boxed variety and you can control exactly what goes into it. So next time you're craving hamburger helper, give this recipe a try!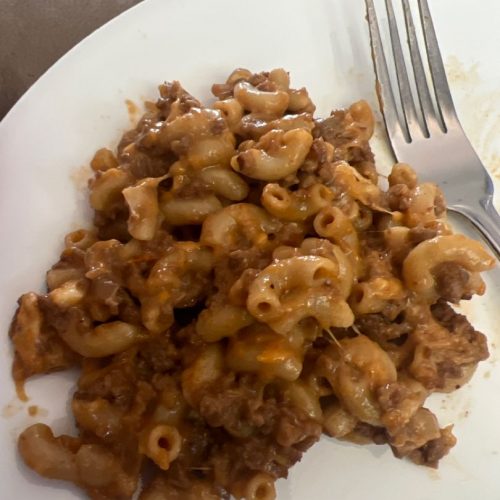 One Pot Homemade Hamburger Helper
This easy one-pot meal is sure to be a hit with your family. With just a few simple ingredients and minimal effort, you can create a hearty and tasty dinner that's both budget-friendly and full of flavor.
Ingredients  
Ground beef 1 lb

1

onion finely chopped

1

teaspoon

salt

1

teaspoon

onion powder

1

teaspoon

garlic powder

1/4

teaspoon

black pepper

2

tablespoons

tomato paste

1

teaspoon

Worcestershire Sauce

2 1/4

cups

beef broth

2

cups

elbow noodles uncooked

2

cups

shredded cheddar cheese

1/3

cup

heavy whipping Cream

1/4

cup

sour cream
Instructions 
Cook the ground beef, onion and garlic in a skillet with a lid over medium heat. The ground beef should be browned and broken down. Drain.

Stir the Worcestershire sauce and tomato paste into the ground beef.

Mix the beef broth with uncooked elbow pasta. Mix well and bring to boil.

After the pan has boiled, cover it with a lid and turn down the heat to medium-low.

Let the pasta cook for about 15 minutes, or until the liquid has evaporated.

Mix in the cream, shredded cheese, and sour milk. Stir until combined.

Serve immediately

You can keep leftovers in a Tupperware container for several days. In the microwave.