Get ready for a classic comfort food that's sure to please both kids and adults – the Meatball Sub Casserole! This one-pan dish combines all the flavors of a great meatball sub, but with easy prep using mostly frozen and pantry items. Get the details on this hearty and delicious meal in this article!
This dish is a delicious, hearty casserole that is perfect for a winter meal. It features ground beef, pork, and lamb meatballs, as well as a variety of vegetables. The casserole is then topped with a cheesy breadcrumb topping.
There are a few reasons you should try this recipe. First, it's an easy way to get a delicious and hearty meal on the table with minimal effort. Second, it's a great way to use up leftover cooked meatballs (or even store-bought ones). Third, it's kid-friendly and sure to please even the pickiest eaters. And fourth, it can be easily customized to your liking – add more or less of any ingredient, swap out the meatballs for another protein, etc. So why not give it a try? You just might be surprised at how much you love it!
Tips:
Assuming you're looking for tips specifically related to the recipe:
-If you don't have time to make your own meatballs, you can use frozen meatballs instead. Just be sure to thaw them before adding them to the casserole.
-For extra flavor, try adding some garlic or onion powder to the meatball mixture.
-If you want a bit of a crunch in your casserole, try topping it with some chopped up bacon or crumbled up sausage.
Conclusion & Recipe:
If you love meatballs, then you'll love this meatball sub casserole! It's a hearty and satisfying dish that's perfect for a winter night. The best part is that it's easy to make and can be tailored to your liking. So whether you like your meatballs with lots of sauce or just a little, this dish is sure to please.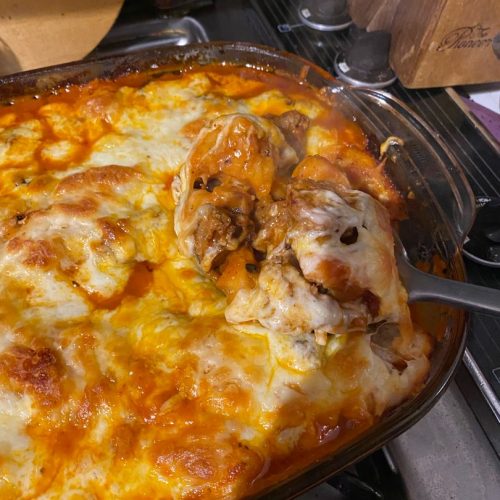 Meatball Sub Casserole
Get ready for a classic comfort food that's sure to please both kids and adults – the Meatball Sub Casserole!
Ingredients  
Refrigerated biscuits

1 to 8 counts

14

oz

bag frozen Italian Style Meatballs

thawed

1 1/2

cups

marinara sauce

1/2

teaspoon

garlic powder

1/2

teaspoon

Italian seasoning

2

cups

shredded mozzarella cheese

Fresh basil or parsley

minced (optional-for garnish)
Instructions 
Pre-heat oven to 350 F. Spray a large, oven-safe skillet or 3 qt baking pan with non stick spray. Set aside. Spray one side of an aluminum foil piece with non-stick spray. Set aside.

Cut each biscuit into eight pieces by removing the biscuit dough from the can. Place in a greased skillet or bake dish.

Add marinara sauce, garlic powder, and Italian seasoning to the top. Mix seasonings in sauce well and coat dough with sauce.

Place thawed meatballs on top of the dough. Sprinkle half of the cheese on top. Cover skillet with foil, spray side down.

Bake for 30 minutes. Remove foil and add the remaining cheese. Bake another 15 minutes until cheese is melted and bubbly. Broil for a few seconds if desired.

If possible, serve hot with fresh herbs garnished.