Are you craving a warm, gooey chocolate chip cookie that's easy to make? Look no further than my mom's famous recipe! These cookies are the perfect combination of chewy and crispy, with just the right amount of chocolate chips in every bite. Whether you're an experienced baker or a beginner in the kitchen, these easy chocolate chip cookies are sure to become your go-to recipe for any occasion. So grab your apron and let's get baking!
There are few things more comforting than a batch of homemade cookies, and this recipe for Mom's Famous Easy Chocolate Chip Cookies is the perfect way to show your loved ones how much you care. These cookies are packed with delicious chocolate chips and are so easy to make, even the most novice baker will be able to impress their friends and family with this treat. So go ahead and whip up a batch of these cookies today, your loved ones will thank you for it!
There are a few reasons why you should try this recipe! For one, it is an easy recipe that only requires a few ingredients. This makes it perfect for those who are short on time or want to make a quick dessert. Secondly, these cookies are absolutely delicious! They are soft and chewy with the perfect amount of chocolate in each bite. Lastly, this recipe is sure to please everyone. Whether you are making them for yourself or for a group of people, these cookies will be a hit!
Tips:
There are a few things to keep in mind when making these cookies so that they turn out perfectly every time! First, be sure to use room temperature butter and eggs. This will help the ingredients mix together more easily and create a more consistent batter. Secondly, don't overmix the dough! Mixing too much will result in tough cookies. Just mix until the ingredients are combined, then stop. Lastly, make sure to use fresh baking soda. Baking soda that is too old can cause the cookies to spread too much or not rise properly.
Conclusion & Recipe:
There's nothing like a classic chocolate chip cookie, and this recipe from Mom is the best of the best. These cookies are so easy to make, and they always come out perfect. They're crispy on the outside and chewy on the inside, and they're loaded with chocolate chips. This is the only cookie recipe you'll ever need!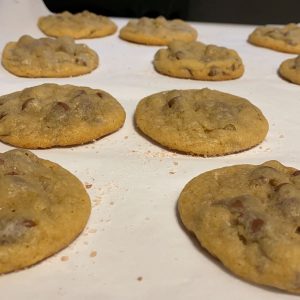 Chocolate Chip Cookies
There's nothing like a classic chocolate chip cookie, and this recipe from Mom is the best of the best.
Ingredients  
1

cup

2 sticks softened butter* (I use unsalted, but feel free to use salted if preferred)

1

egg

1

tsp

vanilla extract

2/3

cup

sugar

1/2

cup

light brown sugar

2

cups

self-rising flour

12

oz

package semi-sweet chocolate chips

I like using 1/2 regular and 1/2 mini size
Instructions 
Use an electric mixer to cream butter in large bowl until smooth.

Then, add sugar and brown sugar to the mixer and mix for approximately 1 minute until it becomes creamy. Mix in vanilla extract and egg for 30 seconds.

Slowly add flour 1/2 cup at time, and mix until well combined.

Add in the chocolate chips, and stir gently by hand until well combined. To make them even more delicious, I use half the regular and half the mini chocolate chips.

Place the covered chocolate chip cookie dough in the fridge to chill for at least one hour. If you prefer, overnight is best. *

After the dough has chilled, take it out of the fridge and heat oven to 375°F.

Place large cookies sheets on parchment paper.

Bake for between 8 and 11 minutes in a preheated 350 degree oven until the bottom and sides are light golden brown.

Take the cookies out of the oven and allow them to cool on a baking sheet for 2 minutes. Then transfer to a cooling rack, allowing them to cool completely.

Remaining cookies can be kept at room temperature up to a week in an airtight container.