Do you have a craving for something savory and delicious? Look no further than this Mushroom Pork Chops recipe! Get ready to combine juicy, golden-fried pork chops with a homemade mushroom sauce for a dinner that's easy enough for any weeknight but special enough for company.
Pork chops are a classic dish that can be made in many different ways. This recipe for mushroom pork chops is a simple and delicious way to prepare them. The mushrooms add a fantastic flavor to the pork, and the dish is easy to make. You can use any type of mushroom you like for this recipe, so feel free to experiment. Serve these mushroom pork chops with some mashed potatoes and green beans for a complete meal.
There are a few reasons why you should try this recipe for Mushroom Pork Chops. First, it is a relatively simple recipe that can be made in under an hour. Second, the flavors of the mushrooms and pork go well together and create a delicious dish. Third, this recipe is a great way to use up any leftover pork chops you may have. Finally, this dish is sure to please everyone at your dinner table.
Tips:  
Here are a few pro tips to make sure your dish comes out perfect:
-Be sure to use fresh mushrooms for this dish. While canned mushrooms would work in a pinch, they won't have the same flavor or texture as fresh ones.
-If you can find them, use cremini mushrooms. Also known as baby bella mushrooms, they have a richer flavor than white button mushrooms.
-Don't overcook the pork chops! They should be cooked through, but still juicy. Overcooked pork chops will be dry and tough.
Notes:
If the gravy does not thicken enough, cover the skillet and simmer the mixture for a few more minutes to achieve the desired consistency. To loosen it, add 1 tablespoon of chicken broth to the gravy. Stir well.
Conclusion & Recipe:
After trying out this recipe, we have to say that we were really impressed! The pork chops came out so tender and juicy, and the mushrooms added a delicious earthy flavor. We will definitely be making this dish again soon.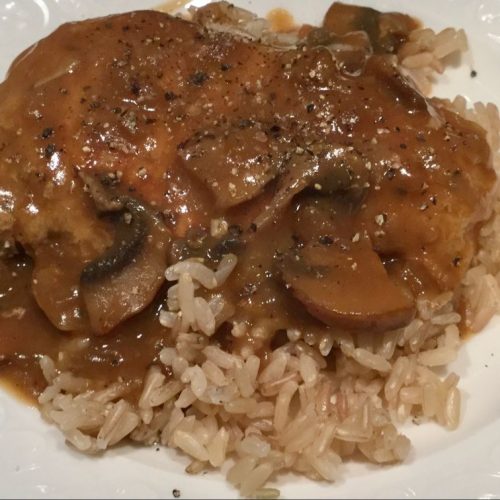 Mushroom Pork Chops
The pork chops came out so tender and juicy, and the mushrooms added a delicious earthy flavor. We will definitely be making this dish again soon.
Ingredients  
4

Thick Pork Chops bone in

about 2 1/2 - 3 1/2 lbs total

1 1/2

teaspoon

salt plus additional for the mushroom sauce

if necessary

1

teaspoon

Garlic Powder

1/2

teaspoon

Onion Powder

1/4

teaspoon

Black Pepper

2

tablespoons

Oil Use a neutral oil that has a high smoke point

16

ounces

White Button Mushrooms

sliced but not too thin

2

tablespoons

Butter

All purpose: 2 tablespoons Flour

1 1/2

cups

Chicken Broth plus additional if necessary

1

teaspoon

Worcestershire Sauce
Instructions 
Season both sides of the pork chops with salt, garlic powder and onion powder.

Over medium heat, heat the oil in a large saucepan. Add the pork chops to the hot oil. Place them in a skillet so they don't overlap.

The chops should be cooked for about 4-5 minutes, depending on their thickness.

Turn each chop over and continue cooking for another 4-5 mins, or until they reach your desired temperature.

At least 145 degrees F is the minimum internal temperature for pork. As they rest, their internal temperature will rise by a few degrees. This is a consideration when you decide when to turn off the heat.

The skillet should be taken off the heat to prevent the drippings from burning. While you are preparing the pork chops, make sure they are covered. Reduce the heat to medium-low.

Place the pork chops on an aluminum foil-covered plate or pan.

The skillet should not be washed. Turn the skillet back on medium heat. Once it is melted, add the butter. Once the butter has melted, add the mushrooms.

Stirring frequently, cook the mushrooms for 3 minutes. Add the flour to the mushrooms and mix well. Stirring frequently, cook the mushrooms and flour mixture 1 minute.

Turn the heat up to medium, and then add the Worcestershire sauce and chicken broth. As you stir, scrape the bottom of your skillet. While stirring, move around the pan in small circles.

It will take some time for the mushroom sauce to simmer. While it is simmering, stir it every now and again. Reduce the heat to low when it reaches a simmer.

Continue to cook the mushrooms in the skillet for about 5-7 minutes, turning occasionally. The sauce should be simmered. If the sauce is too thick, reduce the heat to maintain a simmer.

Salt the mushrooms sauce by tasting it. We added a pinch of salt to ours as a guide.

The pork chops can be served with a generous amount mushroom gravy over mashed potatoes, or your favorite side dish.