Looking for a delicious, easy-to-make meal that won't take up much of your time? Look no further than this one pan sticky honey garlic beef! Packed with sweet honey, freshly grated ginger and just enough spiciness to give it a kick, this meal is sure to become a favorite in no time.
If you love take-out but hate all the grease and extra dishes it leaves behind, then this one pan sticky honey garlic beef recipe is for you! Made with just a few simple ingredients, this dish comes together in no time and is packed with flavor. Plus, it can all be made in one pan, so clean-up is a breeze. So next time you're craving something sweet and savory, give this recipe a try – your taste buds will thank you!
There are many reasons to try this recipe! For one, it is a one pan meal, so cleanup is a breeze. Additionally, the beef is cooked in a delicious honey garlic sauce that will tantalize your taste buds. This recipe is also very easy to follow, so even novice cooks can make a delicious meal.
Finally, this recipe offers some versatility – you can use whatever vegetables you have on hand and customize the dish to your liking.
I was in the mood for something savory and sweet so I decided to make this One pan sticky honey garlic beef dish. The ingredients were simple enough and I already had most of them in my pantry. I started by browning the beef in a large skillet then adding the garlic, ginger, and green onions. I let that cook until fragrant before adding the soy sauce, honey, and vinegar. I let it all simmer until the beef was cooked through and the sauce was nice and thick. It was everything I wanted and more! The best part was that it only took one pan to make so cleanup was a breeze.
Tips:
If you're looking for a sticky, sweet, and savory dish, this one pan sticky honey garlic beef is the perfect recipe for you. Here are some pro tips to help you make the most of this dish:
– Use a good quality beef that will be tender when cooked. A top sirloin or ribeye steak would be ideal.
– Cut the beef into thin strips so that it cooks quickly and evenly.
– Be generous with the garlic and ginger – these flavors really make this dish shine.
– Use a good quality honey for best results. A dark, rich honey will add more depth of flavor to the dish.
– Cook the beef until it's just slightly pink in the center for juicy, flavorful results.
Conclusion & Recipe:
After trying this recipe, I have to say that it is absolutely delicious! The beef is so tender and the sauce is just the right amount of sweet and savory. I will definitely be making this again.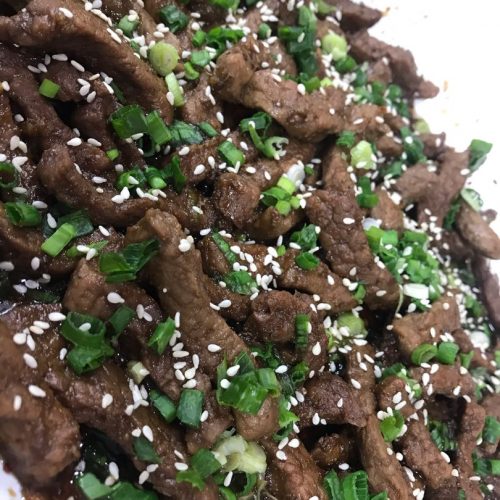 One pan sticky honey garlic beef
If you're looking for a sticky, sweet, and savory dish, this one pan sticky honey garlic beef is the perfect recipe for you.
Ingredients  
1

lb

flank steak

1

tablespoon

sesame oil

1/4

cup

soy sauce

1

tablespoon

Worcestershire Sauce

1

teaspoon

freshly grated ginger

1

teaspoon

hot Chinese mustard

1/4

teaspoon

red pepperflakes

1

teaspoon

minced garlic

1/4

cup

honey

Garnish:

Sliced green onions

Sesame seeds
Instructions 
You can cut the flank steak into 2-inch pieces or longer, thinner strips along the grain.

Mix together the soy sauce and Worcestershire sauce with grated ginger, red pepper flakes, red pepper flakes, honey, minced garlic, and hot Chinese mustard in a medium bowl. Mix well and place in a bowl.

Sesame oil can be added to a medium-sized cast iron pan on medium heat.

When the oil has boiled, add the flank steak sliced in one layer. Allow it to brown well for about 1-2 minutes, without turning it. Then, use tongs to flip the beef over and brown it for 2-3 more minutes.

Turn down heat to low-medium, and then add the sauce to a saucepan. Stir the mixture and allow it to simmer for 5 minutes on low heat until it reduces by half. The sauce will then become sticky.

Serve the beef with rice. Serve the beef over rice with chopped green onions, sesame seeds and garnish.