Are you looking for a delicious dinner that's easy to make and won't take up too much of your time? Look no further than this oven baked chicken breast recipe! Learn the foolproof tip on how to bake the juiciest chicken breasts ever, and enjoy a flavorful dinner in no time.
When cooking chicken breasts in the oven, there are a few things to keep in mind in order to ensure they come out perfectly cooked every time. First, it's important to use an oven safe cooking dish or pan so the chicken doesn't stick and tear when flipping it during cooking. Second, make sure the chicken is evenly coated with your chosen seasoning or marinade before cooking. This will help to prevent the chicken from drying out during baking. Third, cook the chicken breasts at a moderate temperature (350°F / 175°C) until they reach an internal temperature of 165°F / 74°C. Use a meat thermometer to check the internal temperature of the chicken before removing it from the oven. And finally, let the chicken rest for 5-10 minutes after cooking so that the juices can redistribute throughout the meat before cutting into it.
By following these simple tips, you can make sure your oven baked chicken breast comes out juicy and flavorful every time!
If you're looking for a delicious, healthy chicken recipe, this is the one for you! This oven baked chicken breast is seasoned to perfection and cooked to juicy perfection. Plus, it's easy to make and only requires a few simple ingredients.
Here's why you should try this recipe:
1. The seasoning blend of garlic, paprika, and oregano gives the chicken so much flavor.
2. Cooking the chicken in the oven results in juicy, tender meat.
3. This recipe is healthy and low-calorie, so you can feel good about eating it.
4. It's easy to make and doesn't require any special equipment or skills.
Tips:
1. Preheat the oven to 375 degrees Fahrenheit before you start cooking the chicken breasts. This will ensure that they cook evenly and thoroughly.
2. Season the chicken breasts with your favorite spices or herbs before baking them. This will give them extra flavor and make them more delicious.
3. Bake the chicken breasts for 25-30 minutes, or until they are cooked through completely. You can check this by inserting a fork into the thickest part of the breast and making sure that the juices run clear.
4. Once the chicken breasts are cooked, let them rest for 5 minutes before slicing or serving them. This will allow the juices to redistribute throughout the meat, making it even more flavorful and juicy!
Conclusion & Recipe:
The take away from this article is that by following these simple steps, you can make the perfect oven baked chicken breast. This is a great way to cook chicken if you are looking for a healthy and delicious option. By using a meat thermometer, you can ensure that your chicken is cooked all the way through without overcooking it. Give this method a try next time you are in the mood for some oven baked chicken!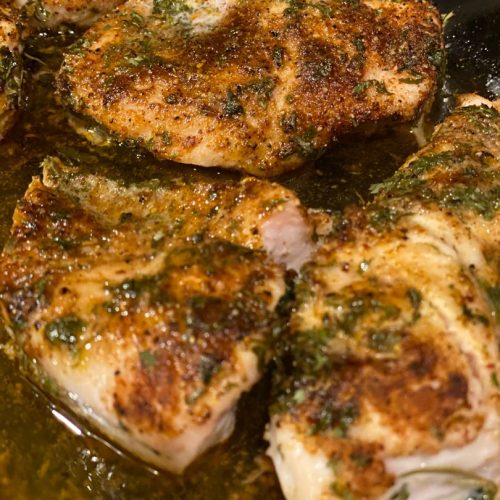 Perfect oven baked chicken breast
If you're looking for a delicious, healthy chicken recipe, this is the one for you! This oven baked chicken breast is seasoned to perfection and cooked to juicy perfection.
Ingredients  
1

teaspoon

garlic powder

1

teaspoon

onion powder

1

teaspoon

paprika*

1/2

tsp

chili powder

1

teaspoon

salt

1/2

teaspoon

ground pepper

1/4

teaspoon

crushed red pepperflakes

optional.

1

tbsp

chopped dried parsley

2

large

boneless, skinless chicken breasts

Olive oil

2

Tbsp

butter
Instructions 
Preheat oven to 450°F

In a small bowl, combine garlic powder, onion powder, chili powder and salt.

To make 4 chicken breasts, cut the large chicken breasts in half.

Olive oil should be applied to both sides of the chicken breasts. Apply the seasoning mix to both sides of the chicken breasts. Make sure you coat all sides. Put the seasoned chicken breasts into a baking dish.

Add half a tablespoon butter to each chicken breast. Bake for 18 minutes. Bake for an additional 4-5 minutes.

Take out the chicken breasts and let them rest for five minutes before serving.