Are you ready to indulge in a rich and creamy potato dish that will leave your taste buds begging for more? Look no further than this Ruth's Chris Potatoes au Gratin Copycat recipe. This cheesy, buttery, and decadent side dish is perfect for any special occasion or dinner party. With simple ingredients and easy-to-follow instructions, you can recreate the magic of Ruth's Chris right in your own kitchen. So grab your apron and get ready to impress your guests with this mouthwatering potatoes au gratin recipe!
Ruth's Chris Steak House is a restaurant chain with locations across the United States. The menu features steak and seafood items, as well as side dishes like Ruth's Chris Potatoes au Gratin.
The potatoes au gratin dish at Ruth's Chris is a creamy, cheesy potato casserole that is a popular side item. While you can order this dish at the restaurant, it is also possible to make a copycat version at home.
This blog article will provide a recipe for Ruth's Chris Potatoes au Gratin, as well as some tips on how to make the dish. With this recipe, you can enjoy the taste of Ruth's Chris potatoes au gratin without having to go out to eat!
This recipe is a delicious, hearty side dish that is perfect for a winter meal. The potatoes are cooked in a creamy sauce and then topped with cheese and bread crumbs, making them irresistible. I love how simple this dish is to make, and it always turns out great.
Tips:
There are a few things to keep in mind when making this dish:
-Be sure to use starchy potatoes, such as Russets, for the best results. Avoid waxy varieties like Red Bliss or Yukon Golds.
-The key to getting that crispy, golden brown topping is to use plenty of cheese and butter. Be generous!
-If you want a bit more of a kick, try adding some smoked paprika or cayenne pepper to the cheese mixture.
-Leftovers reheat well, so feel free to make a big batch. Just be sure to cover tightly with foil so the topping doesn't get soggy.
Conclusion & Recipe:
The au gratin potatoes at Ruth's Chris are some of the best in the business. But, if you're looking for a cheaper option, this copycat recipe is a great alternative. The potatoes are creamy and cheesy, and the bacon adds a nice salty flavor. Give it a try next time you're in the mood for some comfort food.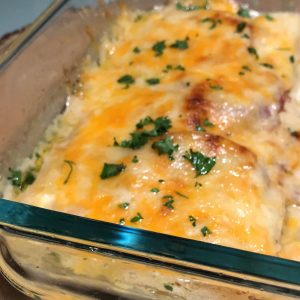 Ruth's Chris Potatoes au Gratin Copycat
Are you ready to indulge in a rich and creamy potato dish that will leave your taste buds begging for more? Look no further than this Ruth's Chris Potatoes au Gratin Copycat recipe.
Ingredients  
2

tablespoons

butter and additional butter casserole dish

1/2

medium onion

minced

1

garlic clove

minced

1 1/4

teaspoon

Salt

1/2

teaspoon

ground pepper

3/4

cup

chicken stock

1 1/4

cups

heavy Cream; add more if potatoes aren't covered.

1 1/2 - 1 3/4 -

About 5 - 6 Medium) russet potatoes

peeled. Slice 1/8 inch thick (thickness standard food processor slicing disk).

3

cups

finely shredded cheese total: 2 cups Cheddar

8oz, 3/4 cup (3 ounces), Fontina, or Provolone and 1/4 cup (1 ounce), Parmesan.

1

teaspoon

chopped parsley as garnish
Instructions 
Preheat oven to 425° F

Heat the butter and add the onion to the pan. Cook until the onion is softened and translucent. Cook for 30 seconds. Add the garlic, salt and pepper. Bring to a simmer the stock, cream, potatoes, and reduce heat. Reduce heat to medium-low, cover, and simmer the potatoes gently for 15 to 20 minutes. Season to taste. Gently stir.

Transfer the mixture to an 8x8'' baking dish or similar size, or to five to six individual casseroles. Bake the casserole in the oven for 10 to 15 minutes (or less for individual casseroles). Let cool for a few minutes before serving. Sprinkle with chopped parsley.

This is a creamy dish that our family loves, even though it is simple. It has cream, potatoes, cheese, cream, and a small amount of onion, garlic, and a bit of chicken stock to add flavor. You can taste the sauce before adding it to the casserole. Season the dish with salt and pepper. If you prefer a more flavorful dish, increase the amount of onion and garlic.