Are you looking for an easy and delicious party snack? Look no further than these Sausage Rolls! They are savory, meaty and full of just the right amount of spices that make them a hit among your guests. Plus, making them is much easier than you think!
A sausage roll is a party favorite for good reason: they're easy to make, and they're always a hit with guests. If you're looking for a recipe that will impress your friends and family, look no further than this one.
This recipe is for classic pork sausage rolls, but feel free to substitute the sausage meat for something else if you have other dietary restrictions. The possibilities are endless!
I hope you enjoy this recipe as much as I do. Let me know how it turns out in the comments below.
Why I should try This Recipe?
1. They're delicious! Sausage rolls are a classic party food that always goes down a treat.
2. They're easy to make! This recipe is simple and straightforward, so you'll be able to get them on the table in no time at all.
3. They're versatile! You can customize this recipe to suit your taste, whether you like your sausage rolls with a little spice or not.
4. They're great for entertaining! Whether you're hosting a big party or just having a few friends over, sausage rolls are the perfect finger food to keep everyone happy.
5. They freeze well! If you make a batch of sausage rolls and find yourself with leftovers, don't worry – they freeze perfectly so you can enjoy them another day.
Sausage Rolls are a party favorite for a reason – they're easy to make and always a hit! This recipe is simple, but yields delicious results. Just mix together sausage, bread crumbs, onion, and egg. Then shape into rolls and bake! Serve with your favorite dipping sauce and enjoy!
Tips:  
1. Preheat your oven to the correct temperature before you start cooking. This will help ensure that your sausage rolls are cooked through and crispy on the outside.
2. If you're using frozen puff pastry, make sure to thaw it out completely before you begin working with it. Otherwise, it will be very difficult to roll out and shape.
3. When shaping the rolls, try to make them as even in thickness as possible so that they cook evenly.
4. Don't overcrowd the baking sheet when cooking the sausage rolls – space them out so that they have room to breathe and crisp up properly.
5. Serve the sausage rolls warm, straight out of the oven for best results!
Notes:
This recipe is perfect for a party because it's easy to make and everyone loves sausage rolls! Here are a few notes about this recipe:
-You can use any type of sausage you like in this recipe. I used pork sausages, but you could also use chicken, beef, or lamb sausages.
-If you're short on time, you can use pre-made puff pastry dough instead of making your own.
-These sausage rolls can be served hot or cold. If you're serving them cold, simply reheat them in the oven for a few minutes before serving.
Conclusion & Recipe:
When it comes to party food, few things are as popular as sausage rolls. And for good reason – they're delicious! But what many people don't realize is that they're also incredibly easy to make. Whether you're looking for a last-minute appetizer or just want to impress your guests, these sausage rolls are sure to do the trick.
So what are you waiting for? Give them a try!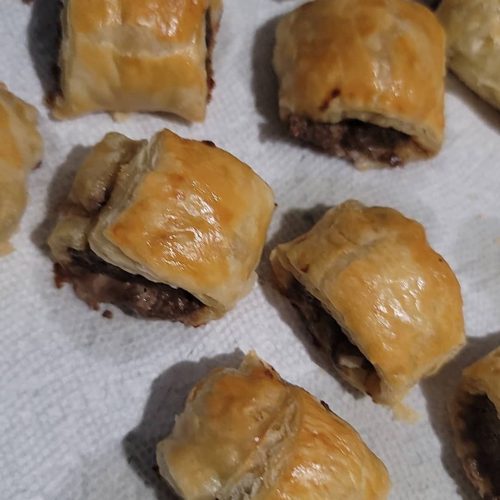 Sausage Rolls
Are you looking for an easy and delicious party snack? Look no further than these Sausage Rolls! They are savory, meaty and full of just the right amount of spices that make them a hit among your guests.
Ingredients  
1

lb

pork sausage

1 17.3

oz

2 pack box puff pastry

2

eggs divided

1/2

cup

breadcrumbs

2

Tbs

parsley

1

teaspoon

thyme

1

teaspoon

garlic powder

1

teaspoon

onion powder

1/2

teaspoon

salt

Give a pinch of pepper

1

tbs

water
Instructions 
Puff pastry should be defrosted according to the package instructions.

Preheat oven to 425°F

Place parchment paper on a large baking sheet and set aside.

Mix together the sausage, breadcrumbs, 1 egg and salt in a bowl.

Divide into six equal parts and place aside.

Pat your dough out on a floured surface. Then roll it out lightly so that it becomes thinner. Finally, cut into three long rectangles.

Place the sausage in the middle of each section, leaving about an inch of pastry between them.

Place sides together, pinch to seal and pat down lightly. Repeat with remaining sausages and dough.

To create venting holes, cut 6 pieces of "log" about 2 inches in length and then use a knife to pierce the top.

Place 2 inch apart sausage rolls on prepared baking sheet.

Mix egg and water in a small bowl. Brush the tops of the sausage rolls with egg mixture and bake for 20 minutes, until pastry is puffy and edges are golden.