If you're looking for an easy and delicious dish to serve for your family or guests, look no further than our Slow Cooker Swedish Meatballs! With few ingredients, minimal prep time and the slow cooker doing all the work, this is a great option for busy weeknights and special occasions alike. Get ready to enjoy a hearty and flavorful meal that will have everyone coming back for seconds!
One of the best things about making Swedish meatballs in a slow cooker is that they can be made ahead of time. In fact, the longer they cook, the more flavorful they become. So if you have the time, make them a day or two in advance and reheat before serving. These meatballs are also great for freezing and can be cooked directly from frozen.
Swedish meatballs are traditionally served with mashed potatoes and gravy, but they are just as delicious with rice or pasta. And if you want to keep things light, serve them over a bed of greens. No matter how you serve them, these Slow Cooker Swedish Meatballs are sure to please!
I'm all about easy and delicious recipes, and this one for Slow Cooker Swedish Meatballs is both! It's a great weeknight or holiday dinner option that the whole family will love. Plus, it's made in the slow cooker so you can set it and forget it.
Tips:  
There are a few things to keep in mind when making this dish that will help you get the best results. First, be sure to brown the meatballs before adding them to the slow cooker. This will give them a nice flavor and color. Second, don't overcrowd the pan when browning them. You want to be able to turn them easily so they brown evenly. Finally, add the sour cream at the end of cooking, just before serving. This will help thicken the sauce and make it creamy and delicious.
Notes:
Assuming you have a standard-size slow cooker, this recipe will serve 4-6 people. If you're feeding a larger crowd, you can double the recipe and cook it in a larger slow cooker.
These meatballs are freezer friendly! To freeze them, simply place them in a freezer bag or container once they've cooled completely. When you're ready to eat them, thaw them overnight in the fridge and then reheat in the microwave or on the stove.
Conclusion & Recipe:
There are so many things to love about these Slow Cooker Swedish Meatballs! They're easy to make, and can be cooked in the slow cooker while you're doing other things. Plus, they're perfect for a weeknight or holiday dinner. The meatballs are tender and flavorful, and the gravy is delicious. Serve them over egg noodles or mashed potatoes, and you have a meal that everyone will love.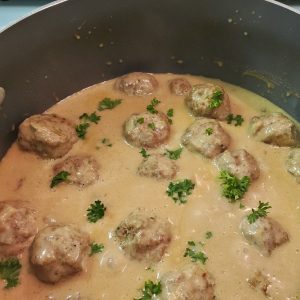 SLOW COOKER SWEDISH MEATBALLS
No matter how you serve them, these Slow Cooker Swedish Meatballs are sure to please!
Ingredients  
MEATBALLS

2

slices

of soft white bread

1/4

cup

water

or milk

Ground beef 1 lb

more fat means more meatballs, but less calories

Ground pork 1 lb

more fat means more meatballs, but lower calories

1/2

of an onion finely chopped or grated

2

large eggs

1

tablespoon

minced garlic

1

teaspoon

dried Italian seasoning

1

teaspoon

salt

1/4

teaspoon

pepper

SWEDISH MEATBALLS - SLOW COOKER

1 1/4

cups

low-sodium beef broth

1/2

cup

half-and-half

2

tablespoons

cornstarch

1

tablespoon

Worcestershire Sauce

1

teaspoon

minced garlic

1

teaspoon

dried parsley

1/2

teaspoon

salt

1/4

teaspoon

of thyme

1/4

teaspoon

pepper

1

teaspoon

nutmeg
Instructions 
BAKED MEATBALLS

Cut the bread into small pieces, then place it in a food processor. Combine the water and process until the bread is finely crumbs. Let the mixture sit for several minutes before stirring.

Mix together the soaked bread, beef, pork and onion with eggs, garlic, Italian seasoning, salt and salt in a large bowl. Don't overmix.

Pre-heat oven to 400°F and line a baking sheet using parchment paper. *I prefer to bake mine but you can also use the slow cooker to cook the sauce raw.

Form meat into 1-1.5-inch balls and place them 1 inch apart on a baking sheet. I get 35 1.5-inch meatballs.

Bake for 10 minutes or until golden brown on the outside. (See post above for more options).

Allow to cool. *Frozen can be used up to three months after cooling.

SWEDISH MEATBALLS - SLOW COOKER

In a slow cooker of 2.5-4 quarts, place one Reynolds Kitchens Slow Cooker Liner. Put meatballs into slow cooker

Mix together half and half, broth, Worcestershire sauce and corn starch. Add garlic, parsley and salt. In a slow cooker, add meatballs.

Cook on low heat until sauce is thickened and heated through, approximately 4-5 hours on low or two hours on high

Serve with sauce over mashed potatoes and egg noodles