Are you looking for an easy weeknight dinner that is both delicious and nutritious? Look no further than this Teriyaki Chicken and Broccoli dish! With bite-sized chicken and broccoli florets combined with the best homemade teriyaki sauce, this dish is sure to become a family favorite in no time. Read on to learn how to make it!
In this recipe, I'll show you how to make a delicious and healthy teriyaki chicken and broccoli dish. This meal is packed with flavor and nutrients, and it's easy to make. I'll also provide some tips on how to ensure that your chicken and broccoli are cooked perfectly.
This recipe is easy to follow and yields delicious, flavorful results. What's not to love? Teriyaki chicken and broccoli is a classic dish that can be enjoyed any night of the week. Plus, it's a great way to get your kids to eat their greens!
This recipe is perfect for a busy weeknight. It's easy to make and the teriyaki sauce is so delicious!
First, you'll need to marinate the chicken in a mixture of soy sauce, honey, and garlic. Then, you'll cook the chicken and broccoli in a large skillet. The teriyaki sauce will come together while the chicken is cooking. Once everything is cooked through, you'll just need to give it a quick stir and serve!
Tips:
1. When preparing the teriyaki sauce, be sure to whisk it well so that the ingredients are fully combined.
2. If you want a thicker sauce, you can add a bit of cornstarch to it while whisking.
3. For best results, cook the chicken and broccoli in a skillet or wok over high heat so that they get nicely browned and slightly charred around the edges.
4. Be sure to keep stirring the ingredients constantly while cooking so that everything gets evenly coated with the sauce.
5. Serve immediately with steamed rice and enjoy!
Conclusion & Recipe:
In conclusion, this teriyaki chicken and broccoli dish is an easy, healthy, and delicious meal that can be made in under 30 minutes. It's perfect for a quick weeknight dinner or a healthy lunch to pack for work. And if you're looking for even more flavor, you can always add a little bit more soy sauce or honey to the sauce.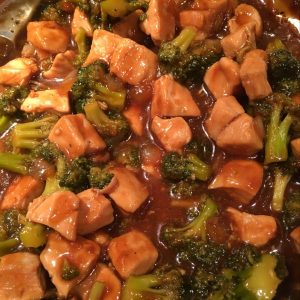 teriyaki chicken and broccoli
This recipe is perfect for a busy weeknight. It's easy to make and the teriyaki sauce is so delicious!
Ingredients  
4

cups

fresh broccoli

see notes below, if frozen broccoli is used

1

large boneless

skinless chicken breast. Diced into 1-inch cubes

1

tablespoon

vegetable oil

FOR THE SAUCE

2

cloves

garlic

minced

1/2

cup

low-sodium soy sauce

1/4

cup

water

1

tablespoon

vinegar for rice

1/4

cup

dark brown sugar

2

tablespoons

cornstarch
Instructions 
Mix all ingredients together in a small bowl and set aside.

Bring a large pot of water to boil. Add the broccoli. To stop the broccoli from sticking to the bottom of the pot, blanch it for five minutes. Set aside.

Over medium heat, cook the chicken on both sides in a skillet. Turn the heat to medium and add the broccoli. Drain any excess water. Let the sauce thicken for about five minutes by gently pouring it in. Mix the sauce well with the ingredients.

Serve over rice.