Nothing beats a hearty, comforting home-cooked meal – especially one like Chicken Pot Pie! Whether you're looking for a dish to feed the family or just to treat yourself, this classic recipe is sure to hit the spot. Read on to discover how to make the best Chicken Pot Pie that you will ever taste!
A pot pie is a delicious, comfort food dish that typically consists of a chicken and vegetable filling, encased in a flaky pastry crust. Chicken pot pies are perfect for a winter meal, and can be easily made ahead of time. This blog article will provide you with a recipe for the best chicken pot pie.
This recipe is the best chicken pot pie because it is so easy to make and so delicious. It only requires a few simple ingredients that you probably already have in your pantry, and it comes together in just minutes. Plus, this recipe is perfect for feeding a crowd or freezing for later.
This recipe is the perfect comfort food for a chilly winter evening. The savory chicken and vegetables are enveloped in a creamy sauce and topped with a flaky pastry crust. Whether you make it from scratch or start with a store-bought pie crust, this chicken pot pie will soon become a family favorite.
Tips:
When it comes to making a chicken pot pie, there are a few pro tips that can help you make the best one possible. First, be sure to use a good quality chicken stock as your base. This will ensure that your pot pie has plenty of flavor. Secondly, don't be afraid to add a bit of extra chicken to the filling. This will help to make sure that your pot pie is nice and hearty. Finally, be sure to use good quality ingredients in your crust. This will ensure that your pot pie has a flaky, golden brown crust that is simply irresistible.
Notes:
Making a Pie Crust from scratch – Are you worried about making your own pie crust? This step-by-step tutorial will show you how to make a perfect pie crust.
These are essential pie making supplies that you must have if you love pies!
Do you need to make your pie crust yourself? Not at all. However, I highly recommend it. It makes the dish so much better. If you use frozen store-bought, ensure it is thawed.
Add chicken broth slowly to the gravy, 1/4 cup at a stretch, to ensure that it doesn't become too thick. It will become thicker over time, almost like dough. Continue to add and stir until the mixture becomes thinner.
How can you ensure your bottom crust isn't soggy? Make sure the gravy thickens and that both crusts are cooked thoroughly.
You can make two pot pies using this recipe in 9-inch pie plates, if you prefer. You can make both now or freeze one!
Prepare the pie crust and filling separately to make ahead Place each covered in plastic wrap and put in the fridge. When ready to use, follow the instructions for assembly and baking.
To freeze Follow the recipe instructions except for egg-washing or baking. Place in the freezer for 3 months or 6 months if you have a deep freezer. Allow to thaw in refrigerator overnight before you are ready to use. Follow the instructions for baking and egg. Because you are starting with a cold dish, it will take a bit longer to bake.
Storage: Chicken pot pie can be kept in the fridge for up to five days. You can either cover the chicken pot pie with aluminum foil, or place it in a sealed container.
Instructions for heating: Place individual slices on a microwave-safe plate and heat in the microwave for approximately 1 minute. (May take longer depending on how much you use). Pot pie is even better the second time around! Reheat the entire pie in a 375° oven covered with foil. Cover the pie for the final few minutes to crispen it.
Conclusion & Recipe:
The best chicken pot pies are the ones that are made with love. There is nothing better than a warm, flaky pie crust filled with a savory mixture of chicken, vegetables, and spices. When it comes to chicken pot pies, there are endless possibilities for flavor combinations and toppings. Whether you like your pie simple or loaded with extras, there is a recipe out there for you. So, what are you waiting for? Go ahead and give one of these recipes a try!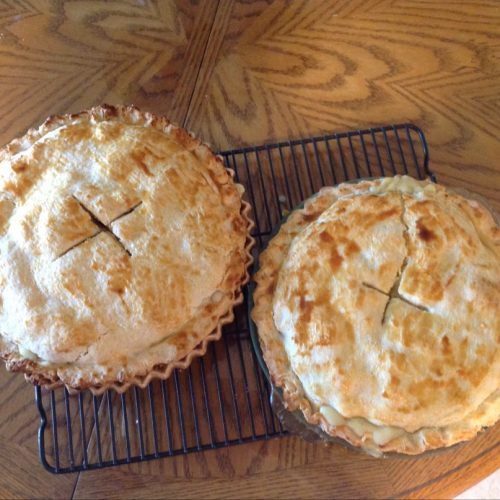 the best chicken pot pie
This recipe is the best chicken pot pie because it is so easy to make and so delicious. It only requires a few simple ingredients that you probably already have in your pantry, and it comes together in just minutes.
Ingredients  
Breast of Chicken

3

lb

chicken breast

1

teaspoon

dried basil

1/2

teaspoon

salt

1/2

teaspoon

ground black pepper

1

tablespoon

olive oil

Pot Pie

Pie crust You can either buy 4 pie crusts

two tops and two bottoms or make your own using the link below.

1/3

cup

butter

Half an onion chopped

2/3

cup

flour

3 1/2

cups

chicken broth

1

cup

milk

3

cups

frozen mixed vegetable

thawed and patted dried

1/2

teaspoon

dried basil

A pinch of garlic powder

Salt and pepper to your liking

1

egg beaten
Instructions 
How to prepare chicken breasts: Season chicken with basil, salt and black pepper. Bake at 350°F for 25-30 minutes or until internal temperature reaches 160°F. Let cool. When cool enough to handle, chop. Set aside.

Prepare pie crust using THIS recipe. Make two copies of the recipe. Cover the pie crust and let it cool in the refrigerator while you prepare your filling.

Preheat oven to 375°F Butter a 9x13 inch baking dish.

Over medium heat, melt butter in a large stockpot. Sauté onions until translucent, approximately 3 minutes.

Mix flour with water and stir. Cook the mixture for 2 minutes more.

Slowly add 1/4 cup of chicken broth at a time. Stir constantly. Slowly adding the broth will ensure that there are no lumps.

Stir in the milk. Cook on medium heat until the sauce thickens. To ensure that the sauce doesn't burn, you should stir it often.

Once the sauce has thickened to the consistency a medium-thick gravy add chicken, mixed veggies, basil, garlic powder and salt. Stir. Remove from heat and let cool.

On a lightly floured surface, roll out half of the pie crust. Place it in a greased 9x13 inch baking dish. Pour in sauce mixture. Spread the remaining pie crust on the top.

The excess pie dough should be removed. I press the top and bottom crusts together using a fork. To let steam and heat escape, cut slits into the top.

Use a pastry brush to brush egg-beaten over the top of pot pie

Bake at 375°F for 30 minutes. Cover and bake for 30 minutes. Then return to the oven and cook for another 30-35 minutes or until both crusts turn golden.

Take out of the oven and let cool for approximately 15-30 minutes before serving.