If you're looking for a delicious, nutritious and speedy meal for dinner tonight, then look no further! This stir fry recipe is the perfect choice – packed with flavorful steak, peppers and tomatoes, it's sure to be a hit with the whole family. Plus, it's ready in 15 minutes or less!
Stir fry is a delicious, quick and easy meal that is perfect for busy weeknights. This recipe features succulent steak, fresh peppers and juicy tomatoes, all cooked in a deliciously spicy sauce. It takes just minutes to prepare and cook, making it the perfect meal for those nights when you don't have much time to cook.
There are a few key reasons why this recipe is worth trying. First, it's a quick and easy meal to make, which is perfect for busy weeknights. Second, it's packed with flavor, thanks to the addition of steak, peppers and tomatoes. And finally, it's relatively healthy, so you can feel good about what you're eating.
Tips:  
1. Pro Tips about this Recipe:
-If you want a really juicy steak, make sure to cook it on a high heat so that it doesn't dry out.
-To get the peppers nice and charred, put them on the hottest part of the grill or pan.
-If you want your stir fry to be extra spicy, add some crushed red pepper flakes or Sriracha sauce to the mix.
Conclusion & Recipe:
This stir fry recipe is quick, easy and delicious – everything you could want in a weeknight meal! The steak is cooked to perfection and the peppers and tomatoes add both flavor and color to the dish. Serve with rice or noodles for a complete meal that will leave you satisfied.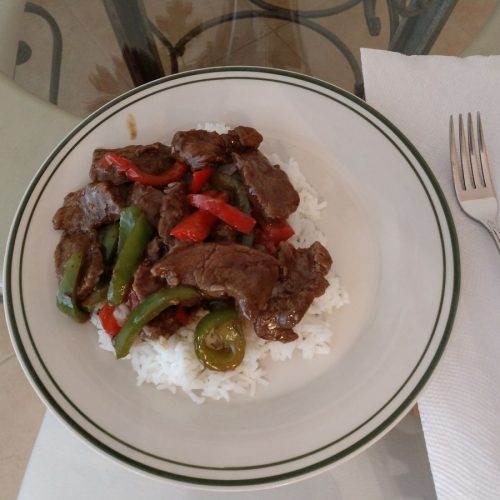 Green Pepper Steak
This stir fry recipe is the perfect choice - packed with flavorful steak, peppers and tomatoes, it's sure to be a hit with the whole family. Plus, it's ready in 15 minutes or less!
Ingredients  
1

lb

sirloin steak or round steak

cut thin against the grain

1/4

cup

soy sauce

divided

1

cup

granulated sugar

2

tablespoons

cornstarch

1

cup

low-sodium beef stock

4

tablespoons

vegetable oil

divided

2

large bell peppers cubed

red or green, or both.

1

large onion

cut into wedges

1

teaspoon

freshly ground black pepper

3

cloves

garlic

minced

1

tablespoon

minced or grated fresh ginger

1/4

teaspoon

crushed red pepperflakes

optional.

2

large tomatoes

cubed (or several small)

Serve cooked rice

Soy sauce as a condiment
Instructions 
Spread 2 tablespoons of soy sauce and sugar on each sliced steak. Marinate for at least 30 minutes, or up to four hours. Prepare the rest of the ingredients while the beef marinates.

Combine the cornstarch with the beef broth and the 2 cups of soy sauce in a small bowl. Whisk until blended. Set aside.

In a large skillet, heat 1 tablespoon of vegetable oil on medium-high. Cook half of the beef until it is browned around edges. Continue cooking the beef for another 2 minutes. Transfer to a plate. Keep warm. Continue to brown the meat with another tablespoon oil and more sliced beef.

Add the remaining oil to the pan. Add the bell peppers, onions, and black pepper. Sauté the vegetables until they are tender and lightly charred, approximately 5 to 8 minutes.

Turn down the heat to medium. If desired, add the ginger, garlic, and crushed red pepperflakes. Stir constantly for about one minute, until garlic becomes fragrant.

Add the cooked beef back to the pan along with the juices and beef broth mixture. Allow the sauce to thicken for 3 to 5 minutes. Mix in the tomatoes, and then stir to combine. Take off the heat and immediately serve.

Add additional parsley and black pepper to the dish.

Serve over hot cooked rice. Serve with additional soy sauce.