These sloppy Joe Quesadillas are the perfect way to chase away the winter blues.
Sloppy Joe Quesadillas are the perfect weeknight dinner! They're easy to make, and you can customize them however you like. Plus, they're a great way to use up any leftover sloppy joe mix.
There are a few reasons why you should try this recipe for Sloppy Joe Quesadillas. First, it is an easy recipe to follow and requires minimal ingredients. Second, the quesadillas are a great way to use up leftover sloppy joe mix. Finally, they are a fun and unique twist on the classic quesadilla that is sure to please everyone at your next party or gathering!
Whether you're feeding a crowd or just looking for a fun and easy weeknight meal, these Sloppy Joe Quesadillas are sure to please! All of the classic flavors of a Sloppy Joe are packed into each bite, and the best part is that they come together in just minutes. Simply cook up your ground beef with some onions and garlic, then add in your favorite Sloppy Joe sauce. Spread the mixture onto some tortillas, top with cheese, and grill until golden and bubbly. Serve with plenty of napkins – these quesadillas can be messy, but they're oh so worth it!
Tips:
When it comes to making the perfect quesadilla, there are a few pro tips you should keep in mind. First, make sure to use a good quality tortilla. A soft, fresh tortilla will make all the difference in the world. Secondly, don't be afraid to pile on the fillings. The more the better, in my opinion. And lastly, make sure to cook your quesadillas until the cheese is melted and bubbly and the tortillas are nice and crispy.
Now that you know all of my pro tips, let's get cooking!
Notes:
This recipe is so easy, and the quesadillas are delicious! I make them all the time for my family. The leftovers are great, too.
I use ground beef in this recipe, but you could also use ground turkey or chicken. If you want to make them even healthier, you could use ground turkey or chicken and add some veggies to the mix.
I like to serve these quesadillas with a side of sour cream and salsa. My kids love them with ketchup.
Conclusion & Recipe:
After trying out this recipe, we have to say that it lived up to its name! These quesadillas were super easy to make and they were absolutely delicious. The beef was nice and juicy, and the flavors all came together perfectly. If you're looking for a quick and easy meal that's sure to please, give these sloppy joe quesadillas a try!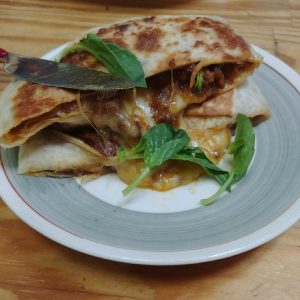 The easiest Sloppy Joe Quesadillas
These sloppy Joe Quesadillas are the perfect way to chase away the winter blues.
Ingredients  
1

tbsp.

extra-virgin olive oil

1/2

onion chopped

2

cloves

garlic

1

lb.

ground Beef

1/2

C.

Ketchup

1/3

c.

Brown Sugar

2

tbsp.

mustard

1

tbsp.

chili powder

Kosher salt

Freshly ground black pepper

4

medium flour tortillas

1

c.

shredded Cheddar

1

c.

Shridded Monterey Jack
Instructions 
Step 1: Heat oil in a large skillet on medium heat. Cook onions for 5 minutes. Stir in garlic, and cook for 30 seconds. Cook ground beef until it is no longer pink. Drain excess fat.

Step 2: Incorporate ketchup and brown sugar. Season generously with chili powder. Allow to simmer for 5 minutes. Transfer the mixture to a plate.

Step 3: Add a flour tortilla to the skillet over medium heat. Sprinkle with the ground beef mixture and then top with cheese and Monterey Jack. Top with a second tortilla. Cook the tortilla until it is golden brown, approximately 2 minutes. Then flip the tortilla and cook for 2 minutes more.

Step 4: Repeat the steps with all remaining ingredients. Cut into wedges and heat.