If you're looking for an easy, flavorful side dish that will impress your family and friends, look no further! This Hasselback potato recipe is packed with herbs, onions, garlic, butter, and cheese to create the ultimate comfort food. Read on to find out how you can make this delicious dish in your own kitchen!
When it comes to side dishes, potatoes are always a good option. They can be boiled, mashed, roasted, or fried, and they go with just about everything. But if you're looking for a way to dress up your potatoes and make them a little more special, hasselback potatoes are the way to go.
Hasselback potatoes are named after the Hasselbacken hotel in Stockholm, Sweden, where they were first served. They look impressive, but they're actually pretty easy to make. All you need to do is slice the potatoes thinly, almost all the way through, and then roast them in the oven until they're tender and crispy.
You can top your hasselback potatoes with anything you like. Sour cream and chives are a classic combination, but you could also try cheese, bacon, or even just a simple herb butter. No matter what you top them with, these potatoes are sure to impress!
There are many reasons to try this recipe for hasselback potatoes. For one, they are absolutely delicious. The thin slices of potato allow for a crispy outer layer while the inside remains soft and fluffy. Additionally, they are very easy to make. This recipe only requires a few simple ingredients and can be easily adapted to suit your taste. Finally, hasselback potatoes make a great side dish or appetizer. They can be served with a variety of dipping sauces or simply enjoyed on their own. So why not give them a try? You won't be disappointed!
Tips:  
There are a few things to keep in mind when making hasselback potatoes. First, use starchy potatoes for the best results. Second, slice the potatoes thinly and evenly for consistent cooking. Third, be careful not to overcook the potatoes – they should be tender, but not mushy. Finally, don't forget the seasoning! Hasselback potatoes are delicious with a simple sprinkle of salt and pepper, or you can get creative with your favourite herbs and spices.
Notes:
Russet potatoes are the best choice because their flesh is dry and softens when baked.

 

Russet potatoes have a thick, tough skin that holds the slices together during cooking.

It's better to choose larger, more fatter potatoes when choosing potatoes.

 

It's also helpful to have them all roughly the same size so that the slices can be placed side-by side in the cast-iron skillet.

I tried a few settings on the mandoline and settled for 1/8 to 3/16 inches.

 

I found the 1/8 setting a bit too thin and the 3/16 too thick.

 

I wanted the bread to be strong enough to keep their shape in the oven.

A sharp knife is just as good if you don't have a mandoline.

 

Although the prep time may be longer, the final results will still be the same.

 

It is important to make the potato slices equal in thickness, so that they cook evenly.

When exposed to air, uncooked potatoes can quickly turn yellow.

 

As you slice the potatoes, make sure to place them in a large bowl of water.

 

They should not be left in the water for more than two hours as the nutrients can leech into the water.

Drain the water, dry the slices with paper towels, and then add oil, salt and pepper to the butter.

Start by placing a stack potatoes sideways on the skillet's outer edge.

 

As you create the circle of potato slices, continue working around the skillet's outer edge.

 

Continue working your way inwards until you reach the middle of the skillet.

 

To complete the ring, add several slices.

Do not squeeze potato slices too tightly together so that it is difficult to add other ingredients.

As you stuff onions and garlic in a skillet, make sure to work your way around it as you carefully stuff each slice between two or three.

 

You don't have to do it perfectly.

 

It doesn't have to be perfect.

 

You only want to find flavors that are submerged in the slices.
Conclusion & Recipe:
The perfect hasselback potatoes are crispy on the outside and fluffy on the inside. They're easy to make and can be served with a variety of toppings. Whether you're looking for a side dish or a main course, these potatoes are sure to please.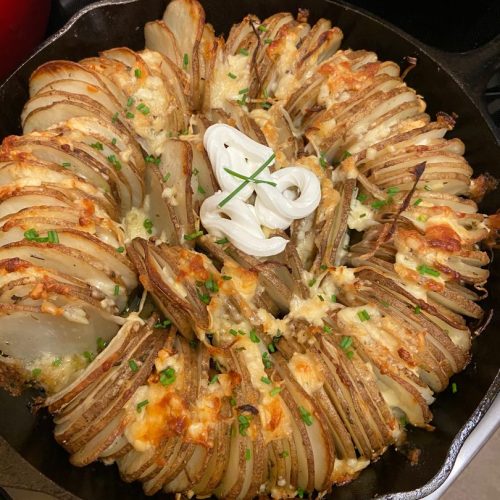 the perfect hasselback potatoes
If you're looking for an easy, flavorful side dish that will impress your family and friends, look no further! This Hasselback potato recipe is packed with herbs, onions, garlic, butter, and cheese to create the ultimate comfort food.
Ingredients  
6-8

large Russett Potatoes

3

tablespoons

Olive Oil

divided

Kosher Salt to your liking

Freshly ground black pepper

to your liking

2

tablespoons

Fresh Rosemary

chopped

1

and 1/2 large Sweet Onions

very thinly sliced

6- 8

large Garlic Cloves sliced very thin

1

cup

Butter slightly softened

1/2

cup

grated white cheddar cheese

1 1/2

cup

grated Parmesan Cheese

Garnish with sour cream

optional.

Chop chives

optional.
Instructions 
Preheat the oven to 350°F

Use a mandoline to slice 6-8 large russet potatoes thinly.

Put the sliced potatoes into a large bowl. Drizzle 2 tablespoons olive oil over them.

Toss in generous amounts of salt, pepper and 2 tablespoons chopped rosemary. Then move it around with your hands until all slices are coated.

Use the olive oil to add 1 tablespoon to a 12-inch cast iron skillet, or an ovenproof skillet.

Place the potatoes vertically in the skillet, starting at the outer edge and working your way to the center.

Mix 1/2 large sweet onion (thinly cut) with 6-8 large garlic cloves. Place the garlic slices and onions between the potatoes in the pan.

Combine 1 cup of lightly softened butter with 1 1/2 cups grated white cheese cheese and 1 1/2 cups grated Parmesan cheese in a medium-sized bowl.

Use a small amount of the cheese mixture to press between two slices of potato. Place the rest of the cheese mixture on top.

Bake for one hour and twenty minutes. For the final 20 minutes, foil the potatoes to stop them from browning. Cook the potatoes until they are tender and crispy on top.

Warm with sour cream, chives (optional).

Enjoy!