"Rise and shine, foodies! It's time to start your day off on the right foot with a mouth-watering breakfast that will make mornings something to look forward to. Say hello to Ham and Cheese Strata – the savory dish that is sure to wake up your taste buds and energize you for the day ahead. With layers of bread, ham, cheese, eggs, and vegetables baked together in perfect harmony, this breakfast casserole is an easy yet impressive way to enjoy a satisfying morning meal. So put down that cereal box and join us as we share our delicious recipe for Ham and Cheese Strata!"
A strata is a dish made up of layers of bread and other ingredients like meats, cheeses, and vegetables. It's usually baked in a casserole dish and served hot. A ham and cheese strata is a classic combination that makes for a delicious breakfast or brunch.
This dish is easy to make ahead of time and can be easily customized to your liking. You can use any type of bread you like, add in whatever vegetables you have on hand, and choose your favorite cheese. This strata is perfect for feeding a crowd or enjoying as a family meal.
There are many reasons to try this delicious breakfast recipe! For one, it is a great way to use up leftover ham and cheese. This recipe is also easy to make ahead of time, so you can simply pop it in the oven in the morning and enjoy a hot, hearty breakfast. Additionally, this strata is packed with protein and vegetables, making it a nutritious way to start your day. So why not give it a try? You may just find that it becomes your new favorite breakfast!
Tips:
When it comes to making a delicious ham and cheese strata, there are a few pro tips that you should keep in mind! First, be sure to use a good quality bread for the strata. A sourdough or other sturdy bread works well. Second, don't skimp on the cheese – use a good quality cheese that will melt well and taste great. Third, cook the strata until it is golden brown and bubbly – this ensures that all of the flavors have melded together nicely. Lastly, enjoy!
Conclusion & Recipe:
If you're looking for an easy, delicious breakfast that will please a crowd, look no further than this Ham and Cheese Strata. This dish can be made ahead of time, so all you have to do is wake up and bake it! What could be better than starting your day with a warm, cheesy strata?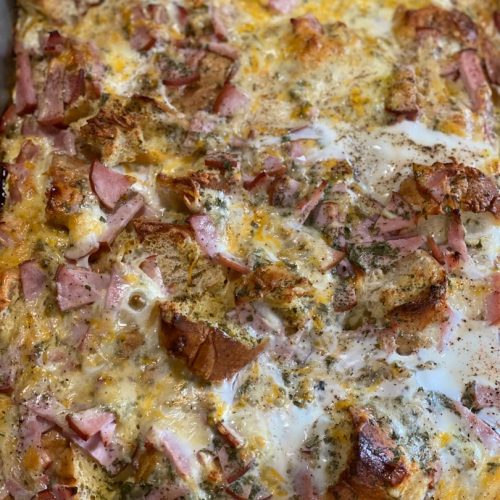 Ham and Cheese Strata
If you're looking for an easy, delicious breakfast that will please a crowd, look no further than this Ham and Cheese Strata.
Ingredients  
10

cups

bread - cubed

3

cups

cooked ham - cubed

1 1/2

cup

cheddar cheese - grated

1 1/2

cup

Monterrey cheese - grated

9

large eggs

2

cups

milk

1

teaspoon

salt

1

teaspoon

dry mustard

1/2

teaspoon

garlic powder

1/4

teaspoon

black pepper
Instructions 
Butter or spray a 9x11 inch baking dish with cooking spray. Layer bread, ham, cheeses.

Mix eggs, milk and salt in a medium bowl. Add garlic powder, salt, mustard, garlic powder and pepper. Slowly add the cheese, ham, bread, and salt. Place in the refrigerator overnight. Cover with foil.

Strain the contents of the refrigerator. Turn oven on to 350F. Cover the pan and bake for 30 minutes. Bake for another 15 to 20 minutes, turning off the foil.

Allow to cool in the oven for about 5-8 minutes before removing from the oven. You can keep it covered in the refrigerator for up to four days.