Looking for an easy and flavorful dinner option? Look no further than this 3-Ingredient Crockpot BBQ Chicken! With only 5 minutes of prep time and just three simple ingredients, you can have a delicious dinner on the table in no time. From sandwiches to salads, tacos to pizza, this shredded BBQ chicken is perfect for any recipe!
If you love BBQ chicken but don't love the hassle of grilling, this recipe is for you! This crockpot BBQ chicken is not only super easy to make, but it's also packed with flavor. The best part? You only need four ingredients to make it!
There are a few reasons why this recipe is worth trying. First, it is an easy way to cook chicken in the crockpot. Second, the BBQ sauce gives the chicken a delicious flavor. Third, this recipe is healthy and low in calories. Finally, the chicken can be served with a variety of sides, such as mashed potatoes or green beans.
Tips:
If you're looking for an easy and delicious Crockpot BBQ Chicken recipe, look no further! This recipe is packed with flavor and is perfect for a summer cookout or a weeknight dinner. Here are a few pro tips to make this recipe even better:
1. Be sure to use boneless, skinless chicken breasts for the best results.
2. To add even more flavor to the dish, try marinating the chicken in your favorite BBQ sauce for several hours before cooking.
3. If you like your BBQ chicken on the spicy side, add a few dashes of hot sauce to the sauce before cooking.
4. Don't forget to baste the chicken with additional BBQ sauce during cooking to keep it moist and flavorful.
5. Let the chicken cook until it is cooked through and slightly charred around the edges for the ultimate BBQ flavor.
Conclusion  & Recipe:
After trying out this recipe, we conclude that it is an easy and tasty way to make BBQ chicken in a crockpot. The chicken comes out moist and flavorful, and the sauce is perfect for dipping or serving on the side. Overall, we give this recipe two thumbs up!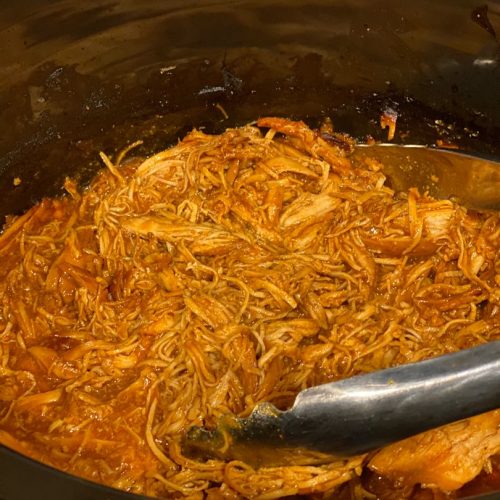 3-Ingredient Crockpot BBQ Chicken
The chicken comes out moist and flavorful, and the sauce is perfect for dipping or serving on the side.
Ingredients  
2

lb

boneless

skinless chicken breasts

1

cup

BBQ sauce

3

Tablespoons

Italian dressing

Salt & Pepper to taste
Instructions 
Place the breasts of chicken in the slow cooker. Season with salt and pepper. Sprinkle the Italian dressing and BBQ sauce over the top.

Cook on high for 3-4 hrs or low for 5-6 hrs. You can either eat the whole thing or shred it with 2 forks. Once you are ready to serve, place in the sauce again.

Serve it with vegetables, as a wrap, or in a slider roll with coleslaw.