Are you looking for an easy and delicious chicken parmesan recipe that will be ready in just 30 minutes? Then look no further! This amazing chicken parmesan recipe is not only incredibly tasty, but also quick to make. Perfect for busy nights when you're short on time but still want to have a wholesome and hearty meal. Follow this step-by-step guide to get your homemade chicken parmesan cooking in no time!
This chicken parmesan recipe is easy to follow and produce delicious results. Chicken parmesan is a classic Italian dish that can be enjoyed as part of a meal or as a standalone entrée. This recipe uses chicken breast tenderloins, which are quickly cooked in a pan before being smothered in a homemade tomato sauce and baked with mozzarella cheese. Serve this chicken parmesan recipe with some crusty bread and enjoy!
If you're looking for an easy chicken parmesan recipe, this is the one for you! This dish only requires a few simple ingredients and can be on the table in just over 30 minutes. Plus, it's a great way to use up leftover chicken.
Tips:
If you're looking for an easy chicken parmesan recipe, this is the one for you! This dish is simple to make and can be on the table in less than an hour. Here are some pro tips to make this recipe even easier:
– Preheat the oven to 400 degrees before getting started. This will help ensure that your chicken parmesan comes out nice and crispy.
– If you don't have any Italian seasoning on hand, you can use a combination of oregano, basil, and thyme. Just make sure to adjust the amounts depending on how strong you want the flavor to be.
– Don't forget to salt and pepper your chicken before cooking it! This will help bring out the flavor of the dish.
– To save time, you can use pre-made marinara sauce. Just look for a good quality sauce that doesn't have too much sugar or preservatives in it.
following these tips, your chicken parmesan will be delicious and hassle-free!
Conclusion & Recipe:
In conclusion, this easy chicken parmesan recipe is a great option for a quick and tasty weeknight meal. The chicken is juicy and flavorful, and the sauce is simple yet delicious. Plus, it only takes about 30 minutes to make, so it's perfect for busy weeknights. Give it a try tonight and let us know what you think!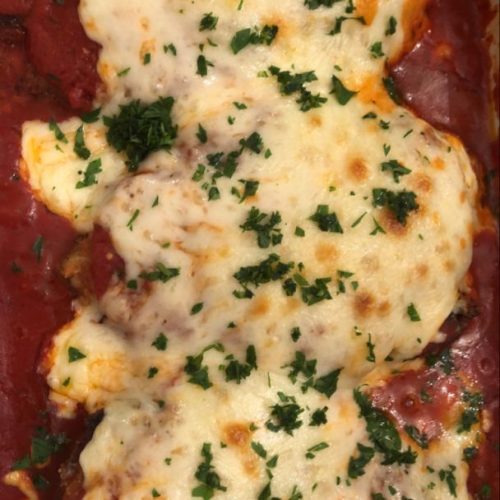 Easy chicken parmesan recipe
This amazing chicken parmesan recipe is not only incredibly tasty, but also quick to make.
Ingredients  
2

large chicken breasts

skinless and boneless

6

slices

provolone cheese

Optional: 3 Tbsp Basil

3

Tbsp

Oil

more, if necessary
Bowl 1:
1/4

cup

all purpose flour

1/4

tsp

salt

A pinch of pepper
Bowl 3:
3

Tbsp

all purpose flour

2/3

cup

panko breadcrumbs

1/3

cup

Parmesan cheese

grated

1

tsp

garlic paste

1/2

tsp

salt

1/4

tsp

groundpaprika

1/2

tsp

Italian seasoning
homemade marinara:
1

Tbsp

unsalted Butter

1

tsp

Oil

Finely chop 1/2 small onion

2

cloves

of garlic

minced

14.5

oz

cubed tomatoes

1

tsp

Italian Seasoning

1/4

tsp

salt

1/8

tsp

ground black pepper
Instructions 
Broil the chicken at step 5. Line a baking pan with parchment.
Make the marinara sauce at home:
Sauté onion in a saucepan. Stir in 1 tablespoon oil and butter until the onion is tender.

Salt, pepper, garlic, tomatoes, Italian seasoning and salt. Cook for 2 to 3 minutes.

Blend until smooth using a hand held blender

Place the marinara in a saucepan. Let it simmer over low heat until you are ready.
chicken:
Then, cut the chicken breasts in half along its length. Use a meat mallet to lightly beat the chicken breast until it is even in thickness.

Combine the ingredients from bowl 1 and bowl 2 in 3 bowls.

Place the chicken in a bowl 1 and then bowl 2. Finally, coat it with a generous amount of oil.

Heat 3 Tbsp oil in a large skillet on medium/high heat. After the oil has heated, add the chicken. If necessary, heat in batches.

2 to 3 minutes per side, cook the chicken until it is crispy and cooked through.

Place chicken breasts on a baking sheet.

Marinara sauce can be used to coat chicken. Sprinkle with cheese

Broil for about 4-6 minutes until cheese is fully melted.

Garnish your dishes with fresh basil.