Looking for a quick and easy dinner that's just as delicious as it is simple? This one pot sausage and rice skillet dinner is a great option! Not only is it ready in under 30 minutes, but with only one pot to clean up afterwards, you can get back to your busy life in no time. Find out how easy it is to make this delicious dinner tonight!
Sausage and rice is a classic combination that makes for a hearty and satisfying meal. This easy one pot sausage and rice skillet is a quick and simple way to get dinner on the table with minimal effort. With just a few ingredients and one pan, you can have a delicious meal ready in no time.
There are a few reasons why you should try this recipe. First, it is an easy one pot meal that is perfect for busy weeknights. Second, it is a hearty and satisfying dish that will leave you feeling full and happy. Third, it is packed with flavor thanks to the sausage and rice. fourth, it is a budget-friendly meal that will not break the bank. fifth, it can be easily customized to your liking with different vegetables or seasonings. So what are you waiting for? Give this easy one pot sausage and rice skillet a try!
Tips:
This recipe is so easy and delicious, and it's perfect for a busy weeknight! Here are some pro tips to make sure your sausage and rice skillet turns out great:
1. Use a good quality sausage. I like to use a chicken sausage, but you can really use any kind of sausage that you like. Just make sure it's a good quality sausage so that it doesn't fall apart while cooking.
2. If you're using uncooked rice, make sure to rinse it before adding it to the pan. This will help to prevent it from sticking together.
3. Don't forget to season your food! A little salt and pepper goes a long way in this dish.
4. Be careful not to overcook the rice. It should be tender but not mushy.
5. Add some extra veggies if you want! I like to add some frozen peas or chopped up broccoli towards the end of cooking.
Conclusion & Recipe:
I hope you enjoyed this easy one pot sausage and rice skillet recipe. If you're looking for more quick and delicious recipes, be sure to check out my blog. Until next time, happy cooking!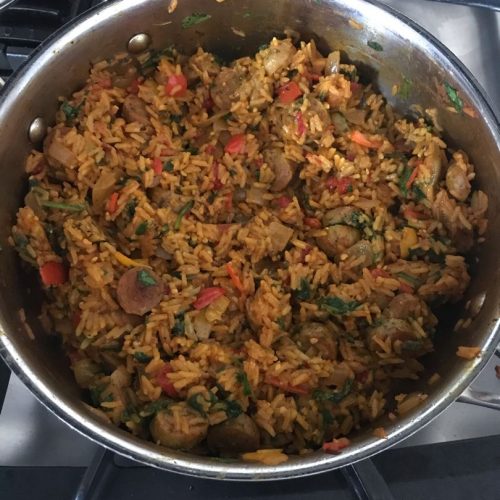 EASY ONE POT SAUSAGE AND RICE SKILLET
it is an easy one pot meal that is perfect for busy weeknights.
Ingredients  
4

fully cooked

roasted garlic chicken sausages sliced

2

TBSP

olive oil divided

1

diced red bell pepper

1

green bell pepper diced

1

onion diced

4

minced garlic cloves

1

tbsp

tomato paste

1

tsp

smoked paprika

1

teaspoon

turmeric

1

teaspoon

dried oregano

Red pepper flakes can be crushed

1

cup

uncooked white jasmine Rice

2

cups

chicken stock low in sodium

1/4

tsp

kosher Salt

more or less according to your taste

1

TBSP

chopped fresh parsley

optional.
Instructions 
Place 1 tablespoon olive oil in a large saucepan and heat on medium heat.

Brown sausage slices, 2 to 3 minutes per side. Take out of the pan.

To finish, add 1 tbsp of olive oil to the pan.

Season bell peppers and onion with salt. Sauté until soft, 5-8 minutes

Mix in tomato paste, garlic, spices, and kosher salt. Mix well for 30-60 seconds.

Stir rice into the pan. Add chicken stock to the pan and then return the sausages to the pan.

Bring to a simmer and then cover with a lid. Cook the rice for between 20-25 minutes until all liquid is absorbed and it is fully cooked.

If desired, garnish with fresh chopped parsley.