Who doesn't love a delicious breakfast sandwich in the morning? If you're looking for an easy and tasty way to start your day, then you need to try these make-ahead Freezer Breakfast Sandwiches! Not only are they delicious, but they're also incredibly easy to make – just bake the eggs, top with cheese, sausage, bacon, or ham on an English muffin and store them in the freezer until breakfast time. Keep reading to find out all the details and get started!
There are few things more satisfying than a make-ahead breakfast that you can grab and go. These freezer breakfast sandwiches are the perfect solution for busy mornings. They're easy to make, and you can customize them to your liking. Best of all, they'll save you time and money in the long run.
With a little planning, you can have a delicious breakfast ready in no time flat. Simply make a batch of these sandwiches on the weekend, and then pop them in the freezer. When you're ready to eat, just reheat and enjoy. It's that easy!
If you're looking for a hearty breakfast that will keep you full until lunchtime, look no further than these freezer breakfast sandwiches. Made with eggs, cheese, and your choice of meat or vegetables, they'll give you the energy you need to power through your day. So why not give them a try? You won't be disappointed.
There are a few reasons you should try this recipe for freezer breakfast sandwiches. First, they're quick and easy to make. You can make a big batch of them on the weekend and then have breakfast ready to go for the week. Second, they're healthy and filling. These sandwiches are packed with protein and fiber from the eggs, bacon, and avocado, so they'll keep you satisfied until lunchtime. Third, they're versatile. You can switch up the ingredients to suit your taste or what you have on hand. And finally, they're freezer-friendly! So if you have leftovers, you can just pop them in the freezer for next time.
Tips:
1. Make a big batch and freeze them: Breakfast sandwiches are a great make-ahead option. Just make a big batch, wrap them individually, and freeze them. Then, when you're ready to eat, just pop one in the microwave for a quick and easy breakfast on the go.
2. Use different kinds of bread: You don't have to use plain old white bread for your breakfast sandwiches. Get creative and use whatever kind of bread you like best. From whole wheat to sourdough, there are lots of delicious options out there.
3. Get creative with your fillings: The sky's the limit when it comes to fillings for your breakfast sandwiches. Think outside the box and get creative with your favorite ingredients. Add some avocado or tomato for extra healthy goodness, or go all out with bacon and cheese for a real indulgent treat.
4. Don't forget the condiments: Don't forget to add your favorite condiments to your breakfast sandwich. A little bit of ketchup or mustard can really take it to the next level.
5. Make it your own: Ultimately, this is your recipe so make it however you like it best! If you want to add more vegetables or change up the type of meat, go for it! This is your chance to get creative in the kitchen and make something that's totally unique to you.
Conclusion & Recipe:
If you're looking for a quick and easy breakfast option that you can make ahead of time, freezer breakfast sandwiches are a great choice! These sandwiches can be assembled in advance and then frozen, so all you have to do in the morning is pop them in the microwave.
There are lots of different ways to make freezer breakfast sandwiches, so you can tailor them to your own taste. You can use any type of bread, fill them with whatever meat or vegetables you like, and add any condiments you want. Once you've assembled your sandwiches, simply wrap them individually in plastic wrap or aluminum foil and store them in the freezer.
When you're ready to eat one, just remove it from the freezer and microwave it for 1-2 minutes until heated through. Breakfast is ready in a flash!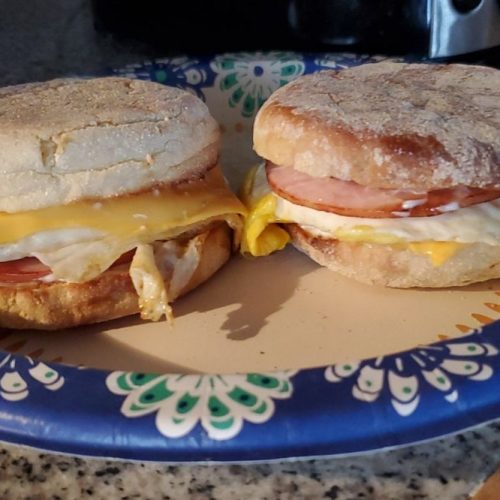 Freezer Breakfast Sandwiches
Who doesn't love a delicious breakfast sandwich in the morning? If you're looking for an easy and tasty way to start your day, then you need to try these make-ahead Freezer Breakfast Sandwiches!
Ingredients  
12

eggs

2

Tablespoons

milk

1

teaspoon

salt

1/2

teaspoon

freshly ground black pepper

12

slices

of cooked bacon

sausage patties or ham.

12

English muffins

12

slices

cheddar cheese

or your favorite cheese
Instructions 
Pre-heat the oven to 325°F. Grease a 9x13'' baking pan.

Mix the eggs, milk and salt together. To make it easier, I use an electric mixer.

Bake the egg mixture in a greased pan for 18-22 minutes or until it is set. Don't over-cook.

Allow to cool in the oven before cutting into 12 pieces.

Each English muffin should be topped with half the egg, cheese, meat, then the other half. For those who want to eat right away, heat the sandwiches at 350° for 5 minutes or until cheese melts.
To Freeze:
Wrap each sandwich in wax paper, parchment, or tinfoil and place in a freezer-safe bag. You can freeze for up to one month.
To reheat:
For best results, thaw in the fridge overnight. Wrap sandwich in paper towel. Microwave on 50% power for 40 seconds to 1 minute. Turn the sandwich upside down and microwave on high for 10-15 seconds until it is warm through.

The sandwiches can be reheated in the oven at 350°F for approximately 10-15 minutes or in a toaster oven.