Make this delicious French dip in your crock pot and enjoy a meal that is both flavorful and easy to prepare. In this article, you'll find the perfect recipe for a family-friendly French dip Crock Pot dinner – all you need are a few ingredients and a slow cooker!
This is a French Dip Crock Pot Dinner Recipe that is easy to make and tastes great. This recipe is for a crock pot, but can easily be made in the oven. I have included a link to the recipe at the bottom of this post.
If you're looking for an easy, delicious dinner recipe, look no further than this French dip crock pot dinner recipe. This recipe is perfect for busy weeknights when you don't have time to cook a complicated meal. Simply throw all of the ingredients into your crock pot in the morning and let it cook all day. When you come home from work, you'll have a hot, hearty meal waiting for you. And clean up is a breeze since everything cooks in one pot.
So why should you try this recipe? Here are four good reasons:
1. It's easy to make. This recipe is as simple as it gets – just dump everything into your crock pot and let it do its thing. There's no need to spend hours in the kitchen slaving over a hot stove.
2. It's delicious. This French dip is packed with flavor thanks to the slow cooking process. The beef becomes incredibly tender and the sauce is rich and savory.
3. It's economical. This recipe is a great way to stretch a pound of beef into a hearty meal for four people (or more).
4. It's versatile. Serve this French dip with some crusty bread for dipping or on top of some rice or pasta for a complete meal. You can also add some veggies to the mix if you want something healthy and filling.
Tips:  
When it comes to making a French Dip, there are a few pro tips that can make all the difference. First, be sure to use a good quality beef broth. This will give the dish its flavor and make it more savory. Second, don't skimp on the cheese! A good Gruyere or Swiss cheese will really elevate the flavors in this dish. Finally, if you want a truly authentic French Dip, be sure to use a baguette for dipping rather than plain old white bread.
Conclusion & Recipe:
When it's time to eat, remove the roast from the crock pot and thinly slice the meat. Place the slices of meat on a hoagie roll, top with cheese and au jus, and serve. Enjoy!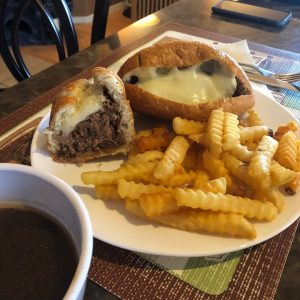 French Dip Crock Pot Dinner Recipe
Make this delicious French dip in your crock pot and enjoy a meal that is both flavorful and easy to prepare.
Ingredients  
3

pound

chuck steak

2

T

vegetable oil

2

cans Campbell's French Onion Soup

1

can Beef Consomme Soup

8

hoagie rolls

8-16

slices

provolone

depending if you want one- or two pieces of each cheese in your sandwich.
Instructions 
Brown Chuck Roast in vegetable ole

Soups can be added to chuck steak

Slow Cook on High for 4 Hours or on Low for 8-10 Hours

Once slow cooker is done with, transfer the roast in a bowl.

Make sure to drain any fat or large chunks of meat from the juice still left in your crockpot.

The juice from the slow cooker should be poured into a large saucepan that can be used to heat the liquid on your stovetop

Let au jus juice simmer to reduce it to half.

Add your shredded protein to french bread slices, hoagie rolls, or french bread and sprinkle with provolone.

Keep sandwiches warm in an oven under low broil.